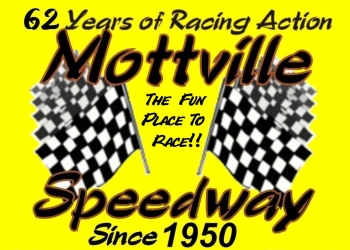 From Mottville Speedway
Mottville, MI – (April 26, 2015) — The racing was hot on a cool Sunday evening at the historic Mottville Speedway. The largest crowd of the season saw Dustin Kline win the very first Mottville Stock feature of the season, Matt Morton take the Mini Stock feature, Ed Martz the Mini Thunder Car feature, Raymond Bakeman the Hornet feature and Marshall Pebler the Kart feature plus Oliva Horton took the Ladies Powder Puff.
Kline and JR Long fought it out in the Mottville Stock feature until Long spun on the final lap.
Morton came to the historic Mottville Speedway for the first time trhis season and won waged a great battle with Dennis Yoder in taking the win. Yoder settled for 2nd followed by Ron Laughman and Jeff Long.
Morton won the heat over Laughman.
Martz won his second MTC feature of the season with a 25 lap victory over Living Legend Eric Root, Jack Hurford, Trevor Martz, Matthew Plencner, Mike Stemmes, Kyle Plencner, , and Cory Birk.
Bakeman on his third feature of the season a hard fought battle with Zach Martz. Martz settled for second followed by Ronnie Holaway, Glenna Root and Ian Whiteman.
Marshall Pebler won the kart feature over Dillon Dane.
The first Ladies Powder Puff of the season was exciting with Horton taking a close win over Haley Bakeman and Emily Root.
Next Sunday, May 3, Mottville Speedway opens at 4:30 PM and race at 6 PM.