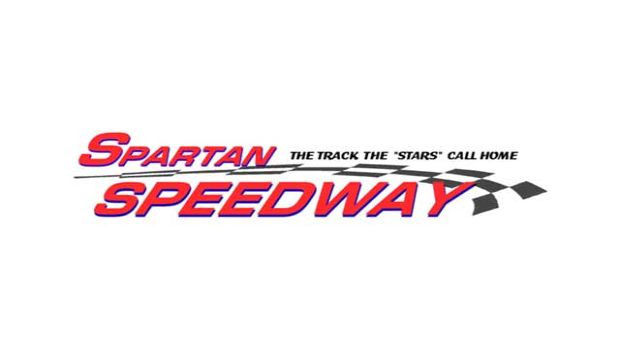 From Bob Buffenbarger
Mason, MI — (July 3, 2015) — Doug Dietsch came from his 4th starting spot and took the lead after passing Gary Sherman on lap two and won the 30 lap feature for Spartan sprints Friday night at Spartan Speedway.
As Dietsch made his move, 6th starting Jimmy McCune was glued to Dietsch's bumper and the duo were "off to the races". Lap five saw McCune and Dietsch make the #13 of HD Carter the meat in the sandwich as they made it three wide on the front stretch with Dietsch still in command as they exited turn one.
Gary Sherman, Anthony McCune and Don Hamilton were racing hard for position as the leaders were putting distance between themselves and the pack. On lap 12, Anthony McCune went over a wheel of the #31 of Hamilton and spun to a stop on the back stretch with Hamilton rolling to a stop in turn three. Both cars were done for the night.
As the green flew again, McCune looked poised to make his move, looking low and high with Dietsch still maintaining the lead as the pair weaved their way through lapped traffic. McCune got a wheel under Dietsch in turn four on lap 22 but it just wasn't quite enough as McCune then tried the high side going into turn one but lost some ground, which he quickly made up.
As laps wound down Dietsch widened the gap between himself and McCune, but on the final lap McCune made a final charge coming out of turn four, but Dietsch was up to the challenge and held on by half a car length at the checkers. Rounding out the top five were Gary Sherman, Brad Wyatt and Mike Stutsman.
Heats were won by Anthony and Jimmy McCune.