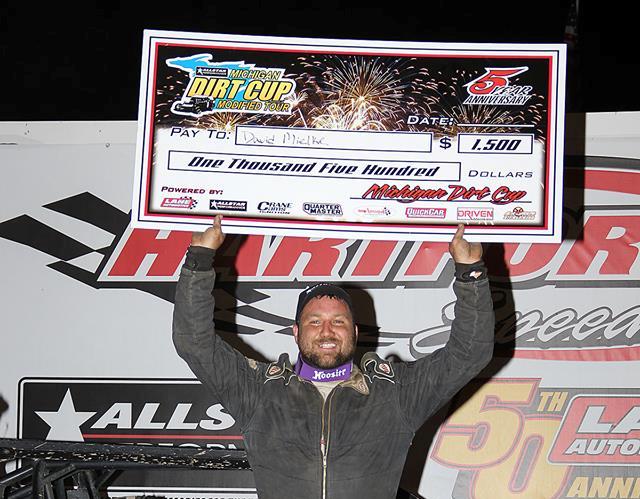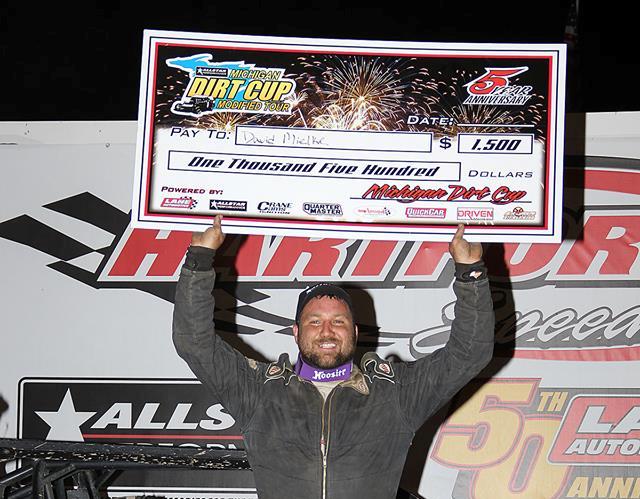 From MPH Promotions
Hartford, MI — (Friday, July 3, 2015) — After a three-week vacation, the Allstar Performance Michigan Dirt Cup Modified Tour Presented by Lane Automotive returned to action and kicked off the Fourth of July Holiday Weekend in the process. The wicked fast 1/2 (0.500) mile semi-banked dirt oval of Hartford Motor Speedway, located west of Kalamazoo in Hartford, Michigan hosted the sixth race of the fifth anniversary 2015 racing season; the Independence Day Weekend Shootout Presented by Lane Automotive.
The Michigan Dirt Cup Modified Tour had visited the ultra fast Southwest Michigan facility on three occasions and it's been Two-Time MDC Modified Tour Champion, Jacob Poel visiting victory lane in all three races. In the fourth all-time MDC Modified Tour race around the big fast 1/2 mile, David Mielke, who has been the man to beat on the tour in 2015 with four victories in five starts going into this race, made it five for six after a dominating victory in front of an overflow crowd in southwestern Michigan.
"This is all about this entire team. I just drive this thing and tonight, this is the fastest this car has been all year long. I could put this thing anywhere I wanted too," The elated 23-year-old driver of the #97 Krompetz Elevator / Northeastern Builders machine stated in victory lane. "Everyone on this team from top to bottom is the reason why we're back in victory lane again. All we have to do is the same things we've been doing all season long and these wins will keep coming. I just can't say enough about this whole year so far. This is pretty special." He added.
Collin Thirlby and Brian Brindley would lead the stout 21-car field to Chief Starter, Marc Henry's green flag and it would be Thirlby who would beat the field into the first corner to grab the early advantage. As the rest of the field began settling into a rhythm, Mielke, who started seventh, jumped right to the top of the track and began picking off cars one by one until he settled in behind Thirlby. Mielke would begin his assault on Thirlby and on lap nine, would drive around Thirlby to take over the lead and he immediately began pulling away from the pack.
Mielke would continue to set a torrid pace as only a single caution flag flew on lap 19 when Aaron Morey, the only driver not named Mielke to win a Feature in 2015, came to a stop in the middle of the backstretch with a broken driveshaft. On the only restart, Mielke would take advantage of being by himself on the front row in the Delaware Double-File Restart and immediately get away from the rest of the field and cruise to the win and break the tie for the lead all-time in career victories. Going into this event, Mielke and Poel were tied at eight wins each before Mielke broke that tie with his ninth career triumph.
Travis Stemler finished second for the fourth time this season in his #2 Gilboe's Lock & Safe machine and thanks to not having finished worse than fifth all season in six events, the 24-year-old drivers still maintains a slim one-point lead in the championship title chase over Mielke who despite his five victories, also has a 13th place finish as well. Stemler, the defending MDC Mod Tour Champion from Ionia, Michigan is looking to repeat as champion and has picked up where he left off from his title winning season.
Two-Time MDC Modified Tour Champion (2012 & 2011), Jacob Poel was in his own ride for the first time this season and would steer his #82 VanDoorn Racing Development ride to a season high third place finish. The 28-year-old from Spring Lake, Michigan started the year in a different ride and debuted his new car earlier in the week during the UMP Summer Nationals before bringing the new car out for the first time this season in the Michigan Dirt Cup Modified Tour.
Curt Spalding, a former track champion at Hartford, came away with a solid fourth place effort in his #111 Allstar Performance open-wheeled modified. The 44-year-old driver, who was racing at his home track, is from near-by Watervliet, Michigan and was the crowd favorite from the packed house on hand. Thirlby, who led the first eight laps in his #47 Thirlby Automotive ride, completed the top five.
Brian Ruhlman, in his first appearance of the season and filling in for Harold Patrick, finished sixth as Bob Baldwin earned the QuickCar Racing Products Hard-Charger award with his 15th to seventh place run. Mark Anderson scored an eighth place effort as Brindley and Dylan Woodling completed the top 10. Earlier in the evening in the Howe Racing Enterprises Qualifier Heat Races, Stemler, Spalding and Mielke took the checkered flags. There were 24 cars on the property. The Michigan Dirt Cup Modified Tour will return to Hartford Motor Speedway on Friday, September 4th to kick off the Labor Day Holiday Weekend and will be joined by the Engine Pro Sprints on Dirt Presented by ARP.
The Allstar Performance Michigan Dirt Cup Modified Tour Presented by Lane Automotive will head to Northern Michigan for their next two events with both coming at the same facility a month apart. The fast 1/4 (0.250) mile high-banked dirt oval of Merritt Speedway, located west of Houghton Lake in Lake City, Michigan will host on Saturday, July 18th as the Summer Spectacular highlights the night. This event will be the second of three appearances at the Mike Blackmer owned facility.
Then just over a month later, MDC returns to Merritt for their third and final show of the season in Lake City, Michigan on Saturday, August 22nd to take part in the Open Wheel Spectacular with the Engine Pro Sprints on Dirt Presented by ARP, Michigan Traditional Sprint Series and MORA Mini Sprints. In the Tours first race at Merritt, which was part of the Inaugural Summer Showdown on June 10th, David Mielke grabbed the victory ahead of Scott Payton, Curt Spalding, Travis Stemler and NASCAR star, Kenny Wallace were the top five.
For more information about the Allstar Performance Michigan Dirt Cup Modified Tour Presented by Lane Automotive, go to the Tour website at: www.michigandirtcup.com. You can also follow MDC all season long on Facebook and Twitter at: www.facebook.com/midirtcup and www.twitter.com/michigandirtcup. For further information, email Michigan Dirt Cup, Director of Operations Scott Menlen at smenlen@michigandirtcup.com. Finally, for more info on Merritt Speedway, the host track for both the seventh and eighth race of the fifth anniversary 2015 racing season, log onto the track website located at: www.merrittspeedwaymi.com.