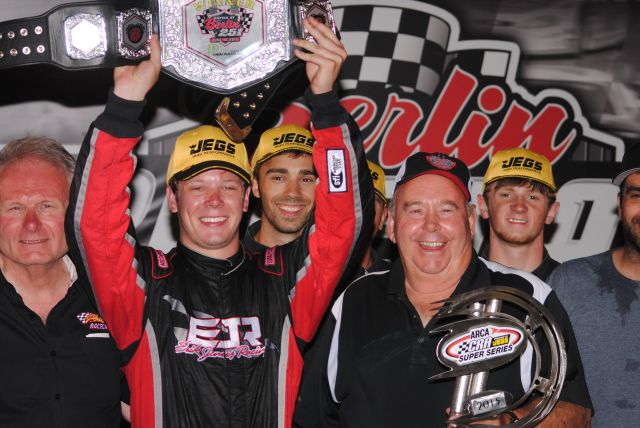 By T.J. Buffenbarger
Marne, MI — (June 16, 2015) — Erik Jones completed a remarkable comeback Tuesday night, winning the ARCA/CRA Super Series Battle of Berlin 251 at Berlin Raceway.
Jones overcame a crash on Monday that destroyed his Port City Racing primary car, driving a backup car to victory while dominating the final 30 laps of the event.
The victory was the climax of a long day for Jones and his race team after staying up until 6 a.m. the morning of the race to prepare the backup car to compete.
"We had a rear end fail on the first lap of practice with a brand new car, kind of a freak accident and unfortunately wrecked that car," said Jones. "I never thought we would be standing here in victory lane tonight. It's pretty special. It means lot to me, it means a lot to these guys a Port City. They worked their butts off to get this car ready. It's pretty special overall and means a lot to everyone"
Jones took the lead from Ross Kenseth on lap 215 and never looked back to collect the $10,000 winner's paycheck and championship belt trophy. After a slow start to the day Jones ended up with a six second lead at the finish. The car Jones utilized was in the midst of being repaired from an accident the previous season.
"I didn't know but Brian (Campbell) had wrecked this car at Illiana (Motor Speedway) and we finished up some of the repairs that were left on it," Jones said. "We were not good when we unloaded at all and wasn't too confident at the beginning of the day. But we talked it over with Zach and Mike Bursley and also with Campbell and they gave their input, we got this thing right, and had a fast car by the end."
Dalton Armstrong and Travis Braden started on the front row for the 251-lap main event. Armstrong got the jump to lead early on while Chase Elliott moved past Braden on lap four and moved into the second spot. Armstrong was able to keep about a one second lead over Elliott in the early stages of the race.
Then on lap 24 Armstrong ran up on heavy traffic and that allowed Elliott to close the gap. On lap 27 Elliott got a look under Armstrong for the lead, but could not make the pass. Elliott go a second run under Armstrong on lap 31 to take the lead. Elliott pulled away to a half second lead down the backstretch the following lap.
The first caution appeared on lap 39 when Dominique Van Wieringen and Bret Robinson spun in turn four and collected Eddie Van Meter.
Once the accident was cleared Elliott opened up a three car length lead during the restart that was almost immediately followed by a caution for a spin by Barry Hartwell in turn three. After the restart on lap 53 Elliott pulled away while Finley moved into third around Braden. One lap later Finley moved into second under Armstrong in turn one.
Another caution on lap 69 appeared when Van Wieringen, Donnie Wilson, Rick Turner and Terry VanHaitsma tangled in turn four. All drivers but VanHaitsma were able to restart. The race restarted on lap 80 with Finley driving around the top of Elliott for the lead.
Further back in the field Campbell began his march to the front. By lap 86 Campbell was up to sixth after starting ninth and moving through the field with Jones in tow
Up front Elliott got a run under Finley on lap 98 and took the lead through turns one and two and pulled away to a three-quarter second lead, blasting through the slower traffic. Behind the lead trio the driver on the move was Campbell. Campbell disposed of Ali Kern for fourth and began working on Braden for third by lap 115. Campbell was quickly joined by Terry Senneker, who had moved up to the fifth spot and ran down Braden for fourth. Senneker moved to the outside of Braden on lap 125, taking the spot one lap later.
Campbell by Finley for second on lap 129 in heavy traffic. Senneker also got around Finley for third as they tried to catch Elliott. Meanwhile, Jones was forward and was up to fourth spot with 152 laps complete.
Following a caution for debris on lap 186 where most of the leaders made a second stop for left side tires a pile up ensued during the restart that collected Lauren Bush, Campbell, Hunter Baize, Kern, Finley, Travis Braden, Wes Griffith Jr., Christopher Bell, Van Wieringen, Andrew Nylaan and Armstrong. Eventual winner Jones just missed the incident.
"We were seventh on that restart and were lucky to get through there," said Jones. "That was the turning point in our day. If we were lucky enough to get through there then something is going right today."
Kenseth led following the restart with Jones in second. Jones bided his time behind Kenseth, taking the lead on lap 205. From there Jones pulled away to over a straightaway lead. Behind them Kenseth, Nemechek, Elliott, and local driver Chris Koslek raced for second. Koslek was able to take advantage of Kenseth and Nemechek making contact racing for second on lap 241 to move into the runner up spot.
Up front it was all Jones taking the victory. Koslek was able to hold off repeated challenges from Nemechek for second. Elliott and Kenseth rounded out the top five.
For Jones it was another opportunity to win in front of his home state fans.
"It's pretty cool to get this win at Berlin. We have a lot of family and friends out here. We're looking forward to celebrating it here for another day before we had off to Iowa."
ARCA / CRA Super Series
Battle at Berlin 251
Berlin Raceway – Marne, MI
Saturday June 16, 2015
1. 61 – Eirk Jones
2. 23K – Chris Koslek
3. John Hunter Nemechek
4. 9 – Chase Elliott
5. 25 – Ross Kenseth
6. 84 – Jay Niewiek
7. 51 – Christopher Bell
8. 47 – Brian Campbell
9. 77 – Andrew Nylaan
10. 28 – Grant Quinlan
11. 26P – Bubba Pollard
12. 101 – Lauren Bush
13. 4K – Ali Kern
14. 131 – Brett Robinson
15. 18 – Mark Lambert
16. 4 – Dalton Armstrong
17. 12 – Dan Leeck
18. 13 – Hunter Baize
19. 33 – Wes Griffith, Jr.
20. 1 – Barry Hartwell
21. 72 – Thomas Woodin
22. 36 – Terry Senneker
23. 42 – Chad Finley
24. 01 – Travis Braden
25. 5 – Dominique Van Wieringen
26. 2W – Donnie Wilson
27. 8 – Jordan Pruitt
28. 21 – Terry VnHaitsma
29. 26 – Rick Turner
30. 1S – Jon Beach
31. 23 – Eddie VanMeter
DNS: 04 – Matt Hall