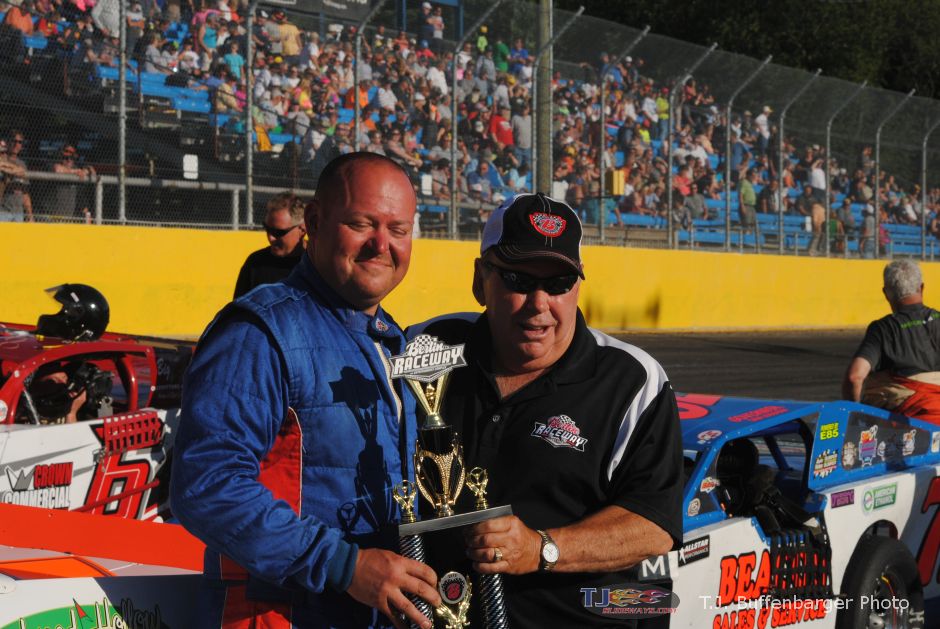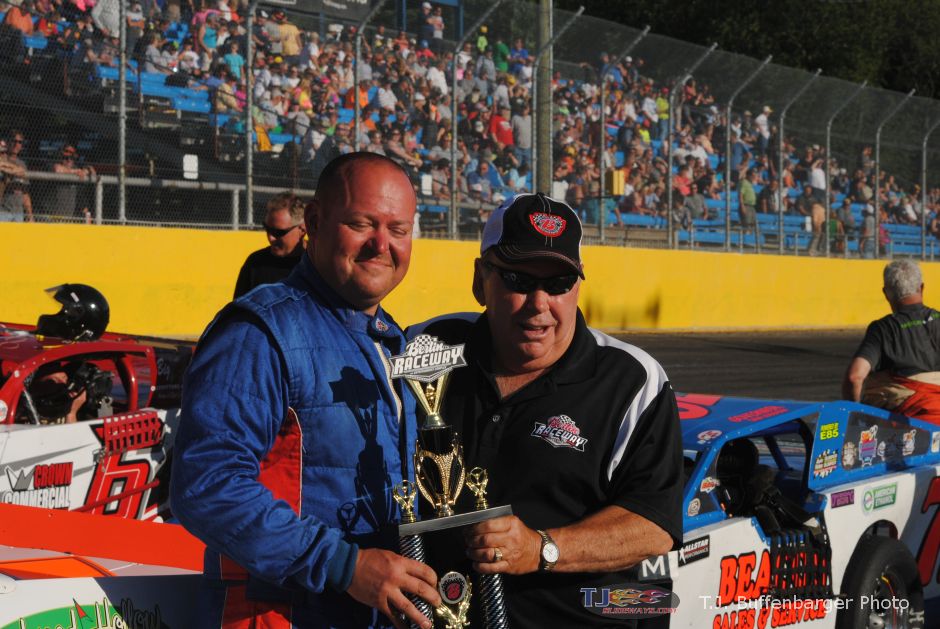 By T.J. Buffenbarger
Marne, MI – (June 16, 2015) – Brian Nester won the Broaster Chicken ICAR Top Speed Modified feature. Nester held off a late race charge from Dan Loughan for the victory.
Then 11 car inversion put Nick Clemens and Nyle Weiler on the front row. Clemens jumped into the lead with Weiler in tow. Six laps Dan Loughan, Bobby Heyink, and Ryan Hamm were racing three wide for position with Hamm the beneficiary moving into fifth just as the first caution in the event.
Clemens got the jump on the restart and shot into the lead by turn one while VanWieringen and Hamm moved Jason Essex down to fifth. Hamm then went to the top side of the speedway and moved into third around VanWieringen on lap 14. Ham then moved into second using the high side to get around Hamm in turn one.
Then just past halfway Nester picked up the pace moving past Weiler for second on lap 24 before passing Clemens for the lead on lap 26. Two laps later the caution appeared for Dennis Mann spinning in turn three.
During the restart Nester took the lead again from Clemens with Loughan moving into third. Loughan continued to march to the front passing Clemens for second with 20 laps to go. Loughan then began to chip away at Lienhouse's lead of over one and a half seconds.
Then on lap 40 the caution appeared for a spin in turn four. Nester used the restart to his advantage to pull away from Loughan for the victory. Ben Kleis, Nyle Wiler, and Van Wieringen rounded out the top five.
Welch was the fastest qualifier with a lap of 17.276 seconds around the 7/16 mile oval.
Broaster Chicken ICAR Top Speed Modified Tour
Berlin Raceway – Marne, MI
Saturday June 16, 2015
1. 11 – Brian Nester
2. 72 – Dan Loughan
3. 6 – Ben Kleis
4. 27 – Nyle Wiler
5. 81 – Tristan VanWieringen
6. 34 – Nick Glemens
7. 31 – Jason Parish
8. 12X – Mike Occhipinti
9. 331 – Trei Deubel
10. 05 – Greg Fullerton
11. 7H – Ryan Hamm
12. 12 – Donnie Matteson, Jr.
13. 61 – Dustin Jackson
14. 0 – Todd Cowan
15. 7 – Matt Dimit
16. 4G – Bill Friffith
17. 9 – Zach Clark
18. 66 – Adam Chaser
19. 11X – Jason Essex
20. 00 – Dennis Mann
21. 97L – Ben Welch
22. 76 – Ryan Gruppen
23. 559 – Damian Lytle
24. 5 – Bobby Heyink
25. 11 – Mark Nienhouse
26. 16 – Kris Fewless
27. 7 – Jerry Hammond