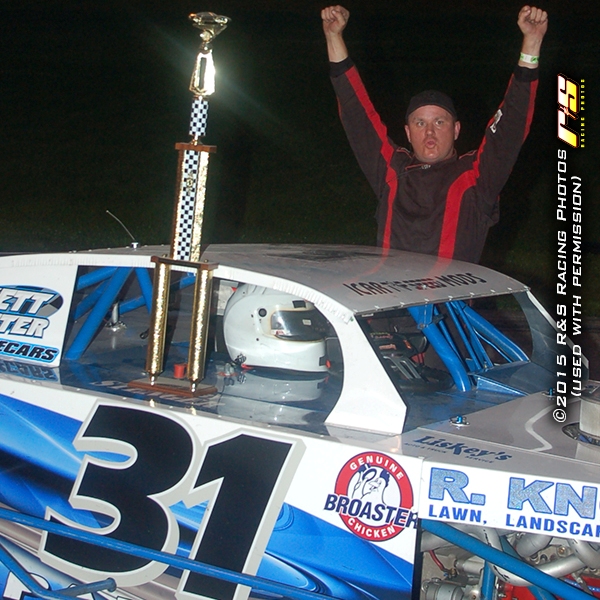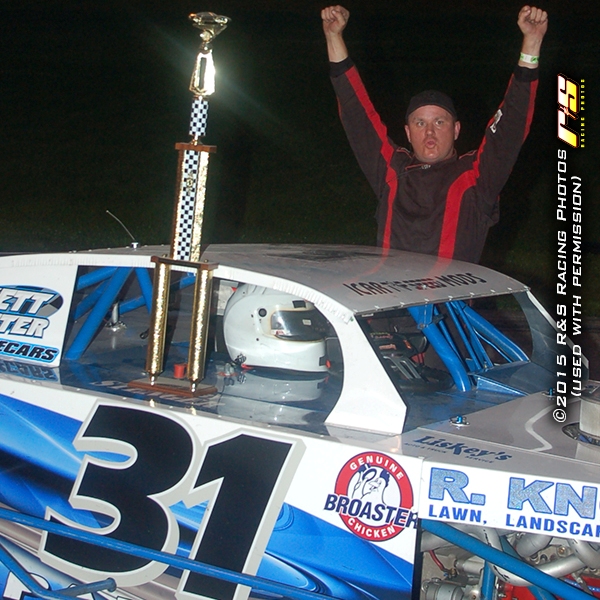 From MPH Promotions
Springport, MI — (Saturday, June 13, 2015) — A pivotal stretch of three races in an eight day span throughout the state of Michigan began for the Broaster Chicken ICAR Top Speed Modified Tour Northern Division at Springport Motor Speedway on Saturday, June 13th. The Wheels 4 Wheels 50 Presented by Beacon Sales & Service marked the second of three appearances at the 3/8s (0.375) mile semi-banked paved oval located north of Jackson and south of Lansing in Springport, Michigan.
In the tours' first appearance back on May 3rd, 2015 M.P.H. Promotions Rookie of the Year title contender, Jason Parish scored the victory in the Cabin Fever 50 Presented by Genuine Broaster Chicken. This time around in the second appearance in Southern Michigan, Parish, the Overall and Rookie of the Year points leader, continued his winning ways at his home track as the Eaton Rapids, Michigan driver in his #31 Painless Dentistry / Town & Country Auto Sales entry by starting on the pole and leading all 50 laps for his second ICAR Top Speed Modified Tour triumph of the season.
"It wouldn't bother me at all if we just ran all of the Northern Division races here that's for sure," Laughed the 41-year-old driver after extended his lead in the season long points chase both overall and for the freshman title," said Parish. "I really like the competition and I like that we get to travel around with the ICAR Top Speed Modified Tour. It's just a good series to run for and any time we can get a victory is a good thing. any victory is good. But we worked really hard this week so that makes two in a row here at Springport pretty special. No race is easy, and especially with this competition, you're in it every lap, so nothing is easy." He added.
After Economy Auto Parts Fast Qualifier, Bobby Heyink pulled a 10 for the redraw inversion, Parish, who qualified third and Nick Clemens, who timed in second quick, drew the #1 and #2 pills respectively and would lead the 23-car field down to Chief Starter, Weo Schweyer's green flag. Parish edged out ahead of Clemens heading into the first corner to take the early lead while the rest of the field jockeyed for position behind him. As the laps continued to click off, Parish would continually build up his lead over Clemens and the rest of the field.
Five cautions slowed the event and on each restart Parish would utilize the inside lane which was the preferred groove around the 3/8s mile on a humid evening in Southern Michigan. The final restart came with eight laps to go and Clemens tried to mount one last charge at Parish, but the home track favorite wasn't going to be denied on this night and would again pull away from Clemens and the rest of the pack to make the hometown fans happy with his second straight ICAR Top Speed Modified Tour Northern Division win of the season at Springport and second overall victory in three starts.
Clemens settled for second in his #34 O'Guinn Family Funeral Homes open-wheeled Modified and was able to keep pace with Parish in the chase for the 2015 ICAR Top Speed Modified Tour Northern Division Championship. The Clio, Michigan driver has recorded three straight top five finishes in three starts on the North Tour as the 31-year-old driver has scored showings of third, fifth and in this event, a career high second. 2011 Track Champion, Walt Obrinske Jr., rounded out the podium finishers in his #T3 Beacon Sales & Service machine. The 35-year-old driver from Olivet, Michigan came into the event as the defending race winner of the Wheels 4 Wheels 50 and was able to back that up with a podium showing.
Canadian teenager, 17-year-old Tristan Van Wieringen registered a career high fourth place finish in his #81 DuroByte Incorporated open-wheeler after starting in eighth. The Amherstburg, Ontario teen, a former competitor in the JEGS/CRA All-Stars Tour is off to a fast start with three consecutive top 10s to open the season highlighted by his fourth place effort on this night. Greg Fullarton, a regular in the ICAR Top Speed Modified Tour Southern Division, made a rare Northern Division start count by completing the top five in his #05 Tony Brabbs Racing Engines ride. The 46-year-old Howell, Michigan resident who originally is from Reservoir Victoria, Australia planted himself in the top five late in the race and was able to fend off veteran Nyle Weiler to secure the final top five position.
Weiler came away with a sixth place effort after a lengthy battle with Fullarton while his teammate, Dan Loughan scored a seventh place finish. Rookie Donny Matteson Jr., grabbed a career high eighth place finish after starting in 14th to secure a second place in the freshman title chase as veteran Brad Springer came away with a ninth place in his 114th career start all-time in ICAR Top Speed Modified Tour events. A third rookie, Sean McPherson posted a career high showing as well by completing the top 10.
Earlier in the afternoon in Economy Auto Parts Qualifying, Heyink picked up his first career ICAR Top Speed Modified Tour Fast Qualifier award as the freshman driver out-qualified the 23-car field with a 15.783. His lap equals out to 85.535mph. The ICAR Track Record in Springport, Michigan remains in the possession of Derrick Griffin who turned in a 15.458 back on May 4th, 2014.
The Broaster Chicken ICAR Top Speed Modified Tour Northern contingent will only have a couple of days before heading west to the historic 7/16s (0.437) mile semi-banked paved oval of Berlin Raceway, located west of Grand Rapids in Marne, Michigan on Tuesday, June 16th. The Battle at Berlin 51 Presented by Primera Plastics will support the ARCA/CRA Super Series headlining event, the Battle at Berlin 251 Presented by Primera Plastics. That entry form is still available and due at the ICAR Home Offices as soon as possible.
Four days after that, the cross state trek to Auto City Speedway, located north of Flint in Clio, Michigan serves as hosts of the Genuine Broaster Chicken 50 Presented by Broaster Sales & Service on Saturday, June 20th. This event marks the second of three appearances for ICAR North at the tricky 0.393 mile semi-banked paved oval. That entry form, which is due at the ICAR Home Offices by Wednesday, June 17th.
The next pair of races for the Broaster Chicken ICAR Top Speed Modified Tour Southern Division will be on back to back nights starting on Friday, June 26th with the running of the Hemelgarn Racing/Super Fitness 50 Presented by Lakeshore Utility Trailer. The famed 1/2 (0.500) mile high-banked paved oval of Toledo Speedway in Toledo, Ohio serves as hosts. The next night will be at another historic 1/2 mile, this time the legendary Winchester Speedway in Winchester, Indiana hosts the Run for the B.B. Gun 50 Presented by Broaster Sales & Service on Saturday, June 27th. In both races, the ICAR Modifieds will be on hand in support of the King of the Wing Sprint Car Series who will highlight both nights.
Entry Forms for all upcoming races throughout the month of June are all available. For more information about the 2015 racing season within both divisions of the Broaster Chicken ICAR Top Speed Modified Tour, please go to the series website located at: www.topspeedmods.com You can also follow along on the Facebook page at: www.facebook.com/TopSpeedModifieds and on Twitter at www.twitter.com/ICARModifieds Finally for more information about Berlin Raceway, the host track for the next race on the 2015 schedule, the fourth race of the 2015 racing season for the ICAR Top Speed Modified Tour Northern Division, go to: www.berlinraceway.com