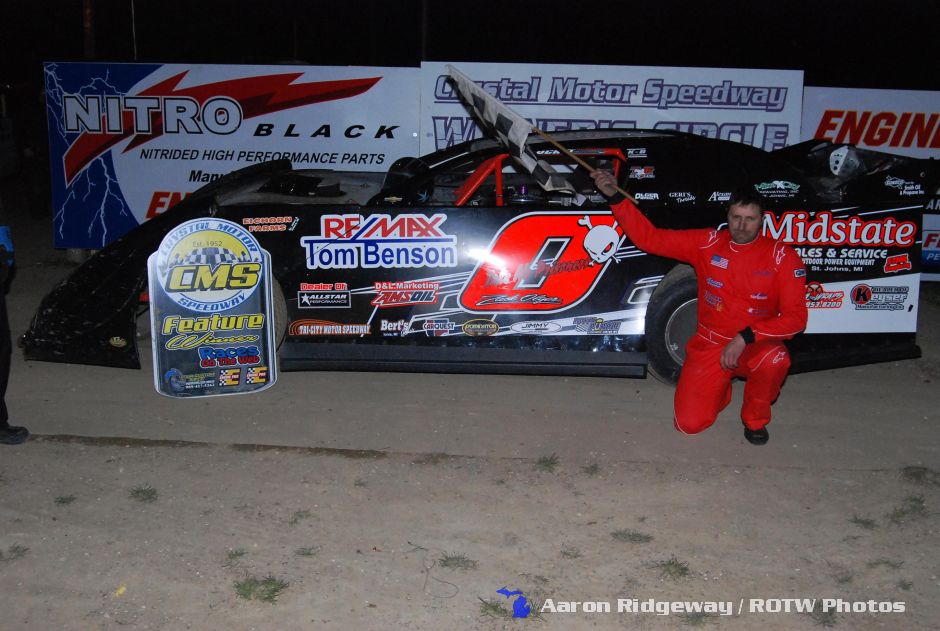 Crystal, MI — (June 13, 2015) — With the threat of weather problems hanging over the track, the racers at Crystal Motor Speedway managed to get in the entire event with 131 cars in the pits. The night was sponsored by CMS Internet of Crystal, Michigan. It was also MARFC night where members of the Michigan Auto Racing Fan Club got free admission to the main grandstands by showing their membership card.
The Engine Pro Pro Truck division went twenty laps green to check and in the end, it came down to Mickey Currier using a slower truck to take his first win of the season away from Andrew Fidler. The two had run side by side for most of the last third of the race. Bree Brasington ran a strong third, followed by Curtis Rice, Paul Grosnickle, Tim Wood, Dave Peters, Jim Emmons, Don Proctor, Jr., and Don Proctor III. Rice and Fidler took heat events.
Zack Olger flexed his muscle once again and claimed his third consecutive Kentucky Fried Chicken Late Model event, edging out Tim Stott and Blaine Hendrick after an outstanding run for third. Scott Baker brought hoe fourth, followed by Josh Borton, Ryan VanderVeen, Joshua Knoll, Ryan Kent, Kyle Borgman, and Amanda Wing. Josh Knoll and David Hilliker advanced by winning B Mains while heats fell to Olger, Tom Dusen, Baker, and Carl Ries.
Johnny DeYoung Jr. pulled off the win over AJ Ward in the All-Star Performance IMCA Modified feature, dedicating the DeYoung family season in remembrance of John DeYoung Sr., the patriarch of the DeYoung racing family who passed away last week. Chance Hoppes was third, followed by Joe Fowler, Gary VanderMark, Montana Bupp, Brenten DeYoung, Vern Buskirk, Jimmy Hale, Jr., and Austin Wonch. Toby Steele and Brody Bowser scored B Main wins and Ward, Brady Hollenbeck, Buskirk, and Aaron Raby went home with heat wins.
The start of the Street Stock feature was punctuated by Justin Giddings taking flight and slapping the fencing just beyond the flag stand, bringing out a red flag to get the fence fixed and the car safely off the track. Once back under green, James Prochazka and Austin Wiley raced side by side for many laps before Wiley edged out Prochazka by a couple feet in a race to the checkers that brought fans to the their feet. Third went to Jay Chlebek, followed by Ron Harper, Tony Vinton, James McKeown, Tyler Brillhart, Christina Haney, Tyler Johnson, and Doug McKeown, Sr.. Giddings and Prochazka grabbed heat gold.
The Races On The Web Flinn Stock event boiled down to a fight between Dave Redmond and Gabe Gesselman with Redmond taking the win. Allen Roszell scored third, followed by Kevin Rohn, Jr., Gary Larabee, Brian Hammond, James Snyder, Travis McGill, Derrick Stahl, and Ashley Powell. Snyder and Taylor Runions posed for heat win photos.
Don Rohn jumped out to the early lead in the Port City Racecar Pro Stock feature but lost a drive shaft three laps in, handing the lead over to Nate Jones, followed by Nick Stormzand and Mike VanderMark Jr.. After five more laps, Jones also dropped a drive shaft, with Stormzand taking the point. VanderMark edged alongside the leader and finally took the lead at the halfway point with John Taylor tight on his bumper. With VanderMark setting sail, a storm brewed up in a fight for second with Josh Loomis, Taylor, Chad Raby, and Stormzand all in the duel. With just two laps to go, VanderMark lead Loomis to the checker, followed by Chad Raby, Rob Brillhart, Nick Stormzand, Blake Hollenbeck, Derek Schestag, John Taylor, Jaycee Baker, and Nathan Murphy. Rohn and Jones won the heat events.
Next week at Crystal Motor Speedway is the Mid Season Championship night, sponsored by Engine Pro. Adults are $12, kids 5-11 are $5 and pit passes are $25. Pit gates open at 4:30, grand stand gates open at 5 PM. Further information is available by calling the track office at 989.235.5200 or visiting the website at crystalmotorspeedway.com
Crystal Motor Speedway
Saturday June 134, 2015:
Late Model Feature:
1. 0X – Zack Olger
2. 11S – Tim Stott
3. 610 – Blaine Hendrick
4. 13 – Scott Baker
5. 111 – Josh Borton
6. 23V – Ryan Vanderveen
7. 87K – Joshua Knoll
8. 52K – Ryan Kent
9. 72 – Kyle Borgman
10. 55W – Amanda Wing
11. 44 – Rob Taylor
12. 21H – David Hilliker
13. 11C – Carl Ries
14. 41 – Jesse Playter
15. 4P – Jason Playter, Jr.
16. B1 – Brennan Bowen
17. 10 – Tom Dusen
18. 0C – Cody Cavagnaro
IMCA Modified Feature:
1. 70 – John Deyoung, Jr.
2. 20W – A.j. Ward
3. 99 – Chance Hoppes
4. 19F – Joe Fowler
5. 10 – Gary Vandermark
6. B6 – Montana Bupp
7. 71 – Brenten Deyoung
8. B76 – Vern Buskirk
9. 77X – Jimmy Hale, Jr.
10. 98 – Austin Wonch
11. 615 – Chad Wernette
12. 21T – Tim Sooy
13. 4S – Toby Steele, Sr.
14. 42P – Kenny Playter
15. 4 – Aaron Raby
16. 78 – Brody Bowser
17. 78W – Drew Wilkerson
18. 93H – Brady Hollenbeck
19. 25M – Jeff Kohn
20. 7D – Myron Deyoung
Pro Stock Feature:
1. 26 – Mike Vandermark, Jr.
2. 11 – Josh Loomis
3. 94 – Chad Raby
4. 77B – Rob Brillhart
5. 44H – Blake Hollenbeck
6. 17D – Derek Schestag
7. 72 – John Taylor
8. 7 – Jaycee Baker
9. 69M – Nathan Murphy
10. 14 – Nate Jones
11. 9T – Ryan Teeter
12. 7DD – Derrick Dennis
13. 65 – Don Rohn
14. 0 – Larry Zander
15. 80 – Jeramie Raby
16. 97 – Nick Stormzand
Pro Truck Feature:
1. 1 – Mickey Currier
2. 51 – Andrew Fidler
3. 10 – Bree Brasington
4. 92 – Curtis Rice
5. 28 – Paul Grosnickle
6. 40 – Tim Wood
7. 55 – Dave Peters
8. 88 – Jim Emmons
9. 71 – Don Proctor, Jr.
10. 7 – Don Proctor Iii
11. 7D – Blake Doolittle
12. 6 – Ryan Paradise
13. 99 – Shane Spencer
Street Stock Feature:
1. 73 – Austin Wiley
2. 6 – James Prochazka
3. 59X – Jay Chlebek
4. 68 – Ron Harper
5. 32T – Tony Vinton
6. 57P – James Mckeown
7. 80 – Tyler Brillhart
8. 16 – Christina Haney
9. A2Z – Tyler Johnson
10. 33 – Doug Mckeown, Sr.
11. 99 – Mike Epplett
12. 0 – Darin Foster
13. 2 – Will Stanley
14. 44 – Cody Broersma
15. 14 – Brandon Cunningham
16. 25X – Bobby Reed
17. 26G – Justin Giddings
18. 64 – David Pellerito
19. 6 – Melvin Allen
20. 23 – Terry Roberts, Jr.
21. F5 – Joel Field
22. 32 – Paul Denny
Flinn Stock Feature:
1. 29LE – Gabe Gesselman
2. 18R – Allen Roszell
3. 23 – Kevin Rohn, Jr.
4. 14L – Gary Larabee
5. 29 – Brian Hammond
6. 67 – James Snyder
7. 66 – Travis Mcgill
8. X – Derrick Stahl
9. 522 – Ashley Powell
10. 11J – Justin Stahl
11. 71 – Kasondra Johnson
12. 17 – Josh Pulsipher
13. 99 – Spencer Simon
14. 67R – Taylor Runions
15. 4 – Dave Redmon