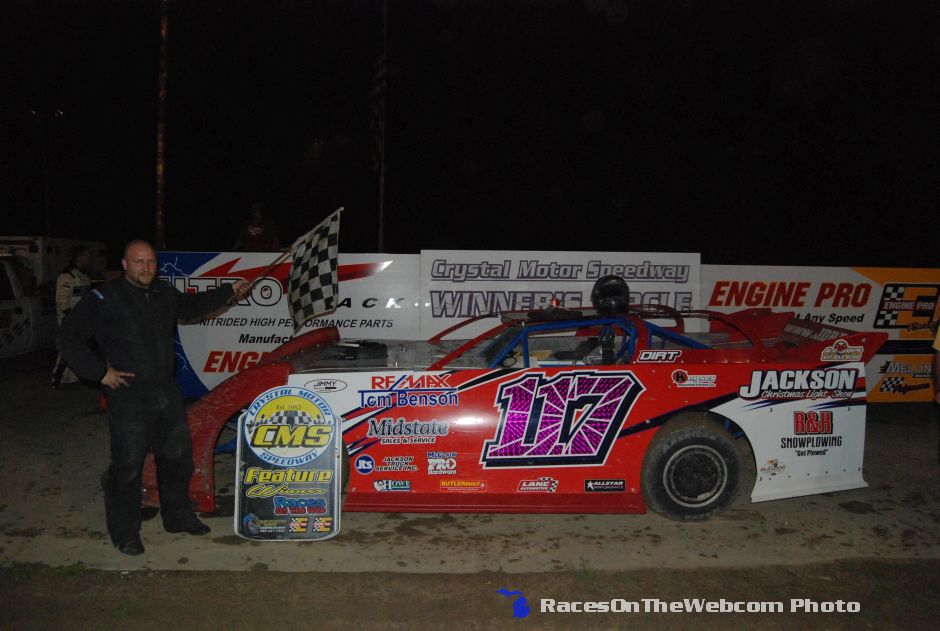 From Crystal Motor Speedway
Crystal, MI — (May 16, 2015) — Saturday night at Crystal Motor got started with a tribute to long time employee with the annual Janet Zeigler Memorial and the track celebrated by running its very popular "Yes 2 Kids" night. Kids got to ride with a participating driver before the race event.
Austin Wiley survived a last lap green, white, checker finish to take the Street Stock feature. Doug McKeown, Sr. was tight behind for second, followed by Dennis Parker, Jr., Joel Field, Ron Harper, Tyler Brillhart, Cody Broersma, Christina Haney, Will Stanley, and Melvin Allen. Allen and Stanley went home with heat victories.
Kevin Reeve had to fight his way through lapped traffic as he fought off a hard charging Ryan VanderVeen and Scott Baker to win the Kentucky Fried Chicken Late Model event. Zack Olger recorded a fourth place finish, followed by Josh Borton, Ryan Kent, Blaine Hendrick, Kyle Borgman, Dean Huizenga, and Jesse Playter. Olger got the main feature by winning the B Main while heats went to Baker, Hendrick, and Reeve.
Chuck Shaw overtook Kasondra Johnson, the early race leader in the Races On The Web Flinn Stocks as she had to back out due to a tire issue. Shaw was soon pressured and then passed by Gabe Gesselman for the lead with two to go. Benjamin Nott came home second, followed by Kevin Rohn, Jr., Shaw, Ray Whitcomb, Allen Roszell, Spencer Simon, Taylor Runions, Johnson, and Chris Strouse. Nott and Gesselman took heats.
Blake Hollenbeck pulled out front and ran away in the early going of the Port City Racecar Pro Stocks with Mike VanderMark Jr and Josh Loomis about ten lengths back. Hollenbeck got loose, allowing Loomis to take the lead and eventually the win. VanderMark, Jr. was a close second, followed by Rob Brillhart, Hollenbeck, Chad Raby, Jake Headley, Nick Stormzand, Jeramie Raby, Derek Crandall, and Derek Schestag. Loomis and Don Rohn collected heat gold.
Tim Wood got out to an early lead in the Engine Pro Pro Truck division with Curtis Rice not far back. With laps winding down, Rice began to pressure Wood and the two got together coming down the back stretch and came down to the checker with Rice winning by a nose. Wood grabbed second, followed by Paul Grosnickle, Dave Peters, Shane Spencer, Laurie Mortensen, Blake Doolittle, Mickey Currier, Andrew Fidler, and Ryan Paradise. Fidler and Grosnickle copped heat wins.
Vern Buskirk held sway in the opening laps of the All-Star Performance IMCA Modified feature before finally being overtaken by Jimmy Hale Jr about lap ten. Hale had to outlast a couple restarts but held on to win the vent over Dan Wiggins II, John DeYoung, Jr., Chad Wernette, Myron DeYoung, Kenny Playter, A.J. Ward, Rusty Zeigler, Robert Putt, and Brenten DeYoung. Wernette and Joe Fowler advanced via B Main wins with heats being taken by Fowler, Wiggins, Playter and Buskirk.
Next week at Crystal Motor is our annual celebration of the Memorial Day weekend. Weather permitting, race events will be run on both Saturday and Sunday nights. Saturday night is a full show plus the Hiram Lightening Sprints and the 'Relay For Life' fundraiser. Sunday night has the first showing of the Michigan Traditional Sprints joining the lineup with the Flinn Stocks have the night off. The track has plenty of primitive camping available.
Pit gates open at 4:30 and the main grandstand gates open at 5PM. Racing begins at 7:30 both nights. On Saturday, adults are $12 and kids 5-11 are $5. Pit passes are $25. On Sunday night, adult prices to the grand stands will be $15 while the kids prices remain at $5 and the pit passes are still $25. More information can be obtained by calling the track office at 989.235.5200 or visiting the website at crystalmotorspeedway.com