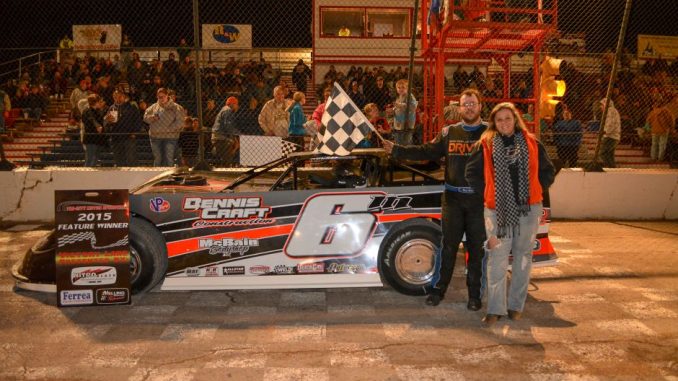 Auburn, MI — (May 15, 2015) — Mother Nature once again created doubt on whether or not there would be racing last Friday night. The clouds would eventually part and racers and fans poured into the Auburn speed plant for a night of great racing on a tacky and competitive track surface. In addition, the best Elgin Pro Stock drivers came out to try and take the $755 top prize in the Pro Stock Invitational.
#@73 Don Colbath and #01x Kevin Gunsel brought the field of 20 to the green flag to start the 35-lap feature. #71 Timmy Near jumped out to the lead quickly in hopes that he could break the unbeaten streak that defending champion #21 Steven Hilliker had amassed so far in 2015. Hilliker, who started seventh, found himself making contact with another car in the field and dropped out of the event with a flat right rear tire. By lap 30, Near held a half lap lead over the second place battle between #94 Chad Raby and #M65 Rick Spencer. Suddenly, Near pulled off the track with a drivetrain issue. This turned the runner-up battle into a fight for the win. Spencer gave Raby all he could handle, but was unable to overtake Raby as he was able to pick up the race win. #10 Brent Reil, #11L Josh Loomis, and #01 Randy Radabaugh completed the top five. #99 Rick Beauchamp would win the B-Main. Raby, Radabaugh, and #80 Jeremy Raby won the qualifying heats.
The Auburn Hotel Street Stocks had another exciting feature event. Once again, #11 Jeffrey Brush jumped out to a commanding lead while drivers like #6 Melvin Allen, #x5 Eric Lake, and #75s Toby Strong manipulated their way through traffic to catch Brush. Strong was able to take advantage of a restart to put him into the front of the field and the win. #X5 Eric Lake, #11B Jeffery Brush, #28 Jared Rizer and #65 Garrett Laudenslager rounded out the top five. #F5 Joel Field was the winner of the B-main. Heat race winners were Allen, Brush, and #02 Will Stanley.
The Hasting Racing Rings Late Model Division saw Dona Marcoullier pick up his third feature win in a row. Marcoullier bested #4 Andrew Terrill, #21h David Hilliker, #117 Kevin Reeve, and #5 Brook Brasington. Hilliker won the b-main to advance to the feature. #11r Carl Ries, Marcoullier, and Terrill were the best of their heat races.
The Main Street Seed and Supply IMCA Modified division was a tightly contested feature event. Point leader and defending Champion #20w AJ Ward was involved in an early race caution and, after one lap completed of the scheduled twenty, would have to restart at the back of the 20-car field. #71 Brenten DeYoung held the early lead as the field watched mid-pack drivers dice their way to the front. By lap 14, #T1 John Taylor held the lead but had Ward, #7d Myron Deyoung, and #776 Rusty Zeigler were on all sides of Taylor trying to take the point. Ward and Deyoung would pass Taylor out of turn two, but contact between the two sent Ward airwards and on his roof. Both would not be able to continue. Taylor would re-inherit the lead and was able to hold off #615 Chad Wernette, Zeigler, #33 Todd Matheson, and B DeYoung survived to finish in the top five. M. DeYoung won the B-main. Heat races went to B. DeYoung, #4s Toby Steele (celebrating his 40th anniversary of his first TCMS start), and #5 Tanner Pray.
The Steven's Cycle Sales and Service V6 Stock Bomber class saw another sweep by #09 Jack Freese over #77 Stacie Staszak. This class has now opened its rules to allow front-wheeled drive four-cylinder cars.
Join us for the kick off to Memorial Day Weekend with the first Figure-8 race of the season for Street Stock type vehicles. The top prize is $418 for winning the 18-lap main event! The night will also include Late Models, IMCA Modifieds, Street Stocks, Pro Stocks and V6 Bombers. Check out www.tricityracetrack.com for more details!
5/15/2015 at Tri-City Motor Speedway
Dirt Late Models
A Feature (25 Laps): 1. 6M-Dona Marcoullier[11]; 2. 4T-Andrew Terrill[4]; 3. 21H-David Hilliker[16]; 4. 117-Kevin Reeve[10]; 5. 5-Brook Brasington[1]; 6. 4-Chad Anklam[17]; 7. 86-Scott Clifford[2]; 8. 9W-Isaac Wolfgang[13]; 9. 55W-Amada Wing[12]; 10. 03-JC witherspoon[3]; 11. 76-Torrey Ahrens[20]; 12. 24P-Joe Pomeroy[9]; 13. 50-Scott Phillips[5]; 14. (DNF) 75-rodney laney[15]; 15. (DNF) 16-Mike Staszak[14]; 16. (DNF) 11-Ryan Lanphierd[7]; 17. (DNF) 9*-Liz Patterson[19]; 18. (DNF) 20-Todd Spencer[18]; 19. (DNF) 0P-Kris Patterson Jr[8]; 20. (DNF) 11CR-Carl Ries[6]
B Feature (15 Laps): 1. 21H-David Hilliker[1]; 2. 4-Chad Anklam[7]; 3. 20-Todd Spencer[3]; 4. 9*-Liz Patterson[2]; 5. 76-Torrey Ahrens[6]; 6. (DNF) 19-Derrick Hilliker[5]; 7. (DNF) 50X-Mike Curtis[4]
Heat 1 (10 Laps): 1. 11CR-Carl Ries; 2. 50-Scott Phillips; 3. 86-Scott Clifford; 4. 0P-Kris Patterson Jr; 5. 9W-Isaac Wolfgang; 6. 21H-David Hilliker; 7. 50X-Mike Curtis
Heat 2 (10 Laps): 1. 6M-Dona Marcoullier[7]; 2. 11-Ryan Lanphierd[4]; 3. 03-JC witherspoon[2]; 4. 55W-Amada Wing[8]; 5. 16-Mike Staszak[3]; 6. 9*-Liz Patterson[1]; 7. 19-Derrick Hilliker[6]; 8. (DNF) 4-Chad Anklam[5]
Heat 3 (10 Laps): 1. 4T-Andrew Terrill[2]; 2. 5-Brook Brasington[1]; 3. 24P-Joe Pomeroy[5]; 4. 117-Kevin Reeve[6]; 5. 75-rodney laney[4]; 6. 20-Todd Spencer[3]; 7. 76-Torrey Ahrens[7]
IMCA Modifieds
A Feature (20 Laps): 1. T1-John Taylor[12]; 2. 615-Chad Wernette[10]; 3. 776R-Rusty Zeigler[6]; 4. 33-Todd Matheson[9]; 5. 71-Brenten DeYoung[1]; 6. 5-Tanner Pray[3]; 7. 776K-Ken Zeigler[4]; 8. 187-Gavin Hunyady[2]; 9. 53-Nathan Oswald[14]; 10. 12-Brian Bero[17]; 11. (DNF) 4S-Toby Steele[5]; 12. (DNF) 7D-Myron DeYoung[16]; 13. (DNF) 20W-A.J. Ward[11]; 14. (DNF) 68-heath griczle[18]; 15. (DNF) 03-Chris Cohoon[20]; 16. (DNF) 21N-Derick Neitling[19]; 17. (DNF) 27-Matt Szecsodi[8]; 18. (DNF) 511-Chaz Pray[7]; 19. (DNF) 19JR-Kody Johnson[13]; 20. (DNF) 42-Craig Vance[15]
B Feature (12 Laps): 1. 7D-Myron DeYoung[9]; 2. 42-Craig Vance[3]; 3. 12-Brian Bero[2]; 4. 68-heath griczle[5]; 5. 21N-Derick Neitling[1]; 6. 03-Chris Cohoon[8]; 7. 7S-Lucas Small[4]; DNS 38-mitchell hunt; DNS 72-Terry Gittins
Heat 1 (8 Laps): 1. 71-Brenten DeYoung[2]; 2. 33-Todd Matheson[6]; 3. 511-Chaz Pray[5]; 4. 20W-A.J. Ward[7]; 5. 19JR-Kody Johnson[1]; 6. 21N-Derick Neitling[8]; 7. 7S-Lucas Small[3]; 8. (DNF) 38-mitchell hunt[4]
Heat 2 (8 Laps): 1. 4S-Toby Steele[4]; 2. 615-Chad Wernette[6]; 3. T1-John Taylor[7]; 4. 187-Gavin Hunyady[2]; 5. 53-Nathan Oswald[1]; 6. 12-Brian Bero[3]; 7. (DNF) 68-heath griczle[8]; 8. (DNF) 03-Chris Cohoon[5]
Heat 3 (8 Laps): 1. 5-Tanner Pray[2]; 2. 776K-Ken Zeigler[3]; 3. 27-Matt Szecsodi[5]; 4. 776R-Rusty Zeigler[4]; 5. 42-Craig Vance[7]; 6. 72-Terry Gittins[1]; 7. 7D-Myron DeYoung[6]
Pro Stocks
A Feature (35 Laps): 1. 94-Chad Raby[12]; 2. M65-Rick Spencer[9]; 3. 10-Brent Reil[17]; 4. 11L-Josh Loomis[5]; 5. 01-Randy Radabaugh[10]; 6. 93-John Robbins[13]; 7. 73-Kyle Reilly[20]; 8. (DNF) 80-Jeramie Raby[11]; 9. (DNF) 71-Timmy Near[3]; 10. (DNF) 31H-Mark Howie[15]; 11. (DNF) 9K-Dale Kaake Sr[4]; 12. (DNF) 21-Steven Hilliker[7]; 13. (DNF) 99-Rick Beauchamp[16]; 14. (DNF) 17-Scott Nieman[8]; 15. (DNF) 69-Nate Murphy[18]; 16. (DNF) 14J-Nate Jones[14]; 17. (DNF) 01X-Kevin Gunsel[2]; 18. (DNF) A73-Don Colbath[1]; 19. (DNF) 8-Mark Davis[19]; 20. (DNF) 26-mike vandermark[6]
B Feature (20 Laps): 1. 99-Rick Beauchamp[1]; 2. 10-Brent Reil[4]; 3. 69-Nate Murphy[8]; 4. 8-Mark Davis[2]; 5. 73-Kyle Reilly[5]; 6. 91-gary shank[6]; 7. (DNF) 27-Rob Westergard[7]; 8. (DNF) 71-Timmy Near; DNS K11-Kendall Morrison
Heat 1 (8 Laps): 1. 94-Chad Raby[3]; 2. M65-Rick Spencer[1]; 3. 11L-Josh Loomis[6]; 4. 01X-Kevin Gunsel[7]; 5. 93-John Robbins[4]; 6. 99-Rick Beauchamp[5]; 7. 10-Brent Reil[8]; 8. 27-Rob Westergard[2]
Heat 2 (8 Laps): 1. 01-Randy Radabaugh[2]; 2. 17-Scott Nieman[1]; 3. 26-mike vandermark[6]; 4. 71-Timmy Near[3]; 5. 14J-Nate Jones[8]; 6. 8-Mark Davis[4]; 7. 73-Kyle Reilly[7]; 8. 69-Nate Murphy[5]
Heat 3 (8 Laps): 1. 80-Jeramie Raby[2]; 2. 21-Steven Hilliker[4]; 3. 9K-Dale Kaake Sr[9]; 4. A73-Don Colbath[7]; 5. 31H-Mark Howie[6]; 6. K11-Kendall Morrison[8]; 7. 91-gary shank[1]
Street Stocks
A Feature (20 Laps): 1. 75S-Kevin Strong[10]; 2. X5-Eric Lake[9]; 3. 11B-Jeffrey Brush[2]; 4. F5-joel feild[16]; 5. 28-Jared Rizer[20]; 6. 65-Garrett Laudenslager[5]; 7. 7R-Dave Newcomb[13]; 8. 55-Amber Eberspeaker[14]; 9. 72-Matt Erndt[7]; 10. 57G-Ryan Buechler[4]; 11. 67-Ryan Fitzgerald[18]; 12. 29-darrick george[1]; 13. 51-Todd Winchell[8]; 14. 8-Aaron Spearling[15]; 15. (DNF) 6-melvin alan[12]; 16. (DNF) B1-jeffery mckenzie[17]; 17. (DNF) 02-will stanley[11]; 18. (DNF) 15.2-robert cunningham[3]; 19. (DNF) 18D-David Lester[19]; DNS 3C-Mitch Clements
B Feature (12 Laps): 1. F5-joel feild[2]; 2. B1-jeffery mckenzie[3]; 3. 67-Ryan Fitzgerald[1]; 4. 18D-David Lester[8]; 5. 28-Jared Rizer[5]; 6. 57-Brandon Weber[13]; 7. 10-brandon jurek[14]; 8. 9-Brian Schneidmiller[12]; 9. 18L-Rodney Lathram[4]; 10. M2-Mike Pashak[6]; 11. 37-Mike Spencer[10]; 12. 99-Dustin Beauchamp[7]; DNS A71-Anthony Jurek; DNS 88-Floyd Schalk
Heat 1 (10 Laps): 1. 6-melvin alan[9]; 2. 51-Todd Winchell[6]; 3. 57G-Ryan Buechler[4]; 4. 29-darrick george[2]; 5. 7R-Dave Newcomb[7]; 6. 67-Ryan Fitzgerald[5]; 7. 18L-Rodney Lathram[3]; 8. (DNF) 99-Dustin Beauchamp[1]; 9. (DNF) 37-Mike Spencer[10]; 10. (DNF) 57-Brandon Weber[11]
Heat 2 (10 Laps): 1. 11B-Jeffrey Brush[2]; 2. X5-Eric Lake[6]; 3. 65-Garrett Laudenslager[4]; 4. 15.2-robert cunningham[3]; 5. 55-Amber Eberspeaker[8]; 6. F5-joel feild[9]; 7. 28-Jared Rizer[7]; 8. 18D-David Lester[5]; 9. 88-Floyd Schalk[1]; 10. 10-brandon jurek[10]
Heat 3 (10 Laps): 1. 02-will stanley[8]; 2. 75S-Kevin Strong[7]; 3. 3C-Mitch Clements[4]; 4. 72-Matt Erndt[5]; 5. 8-Aaron Spearling[6]; 6. B1-jeffery mckenzie[9]; 7. M2-Mike Pashak[2]; 8. A71-Anthony Jurek[10]; 9. 9-Brian Schneidmiller[1]
Bomber Stocks
A Feature (12 Laps): 1. 09-Jack Freese[2]; 2. 77-Stacie Staszak[1]
Heat 1 (6 Laps): 1. 09-Jack Freese[2]; 2. 77-Stacie Staszak[1]