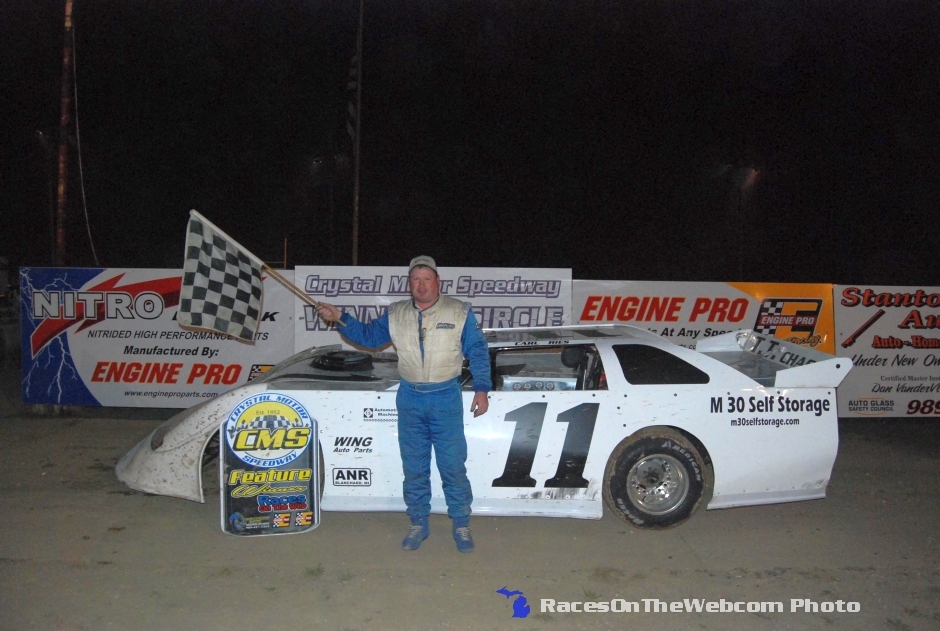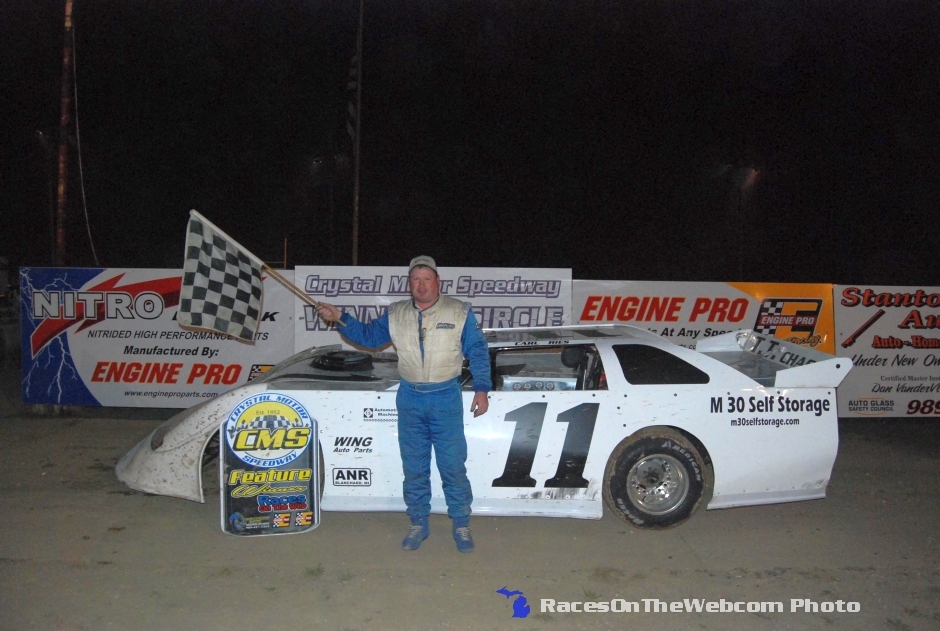 From Verwayne Greenhoe
Crystal, MI — (May 2, 2015) — Saturday night at Crystal Motor Speedway was one of the first nice spring evenings and the fans and drivers turned out in droves. With 133 cars in the pits and a full grandstands, the stage was set for a good night of racing. The event was sponsored by Michigan One Community Credit Union.
Rob Brillhart held a huge lead for most of the Port City Racecar Pro Stock feature and then had to keep Nate Jones behind him in the final couple laps for the win. Jake Headley finished third, followed by Blake Hollenbeck, Derek Schestag, Josh Loomis, Chad Raby, Jeramie Raby, Gary Buskirk, and Nick Rohloff. Mike VanderMark Jr and Rob Brillhart collect the wins in the preliminary races.
Carl Ries put on a dominating showing as he topped out a good field of Kentucky Fried Chicken Late Models. Rob Taylor also had a good run but finished second, followed by Joshua Knoll, Dean Huizenga, Scott Philips, Logan Love, Kevin Reeve, Scott Baker, Kyle Borgman, and Amanda Wing. The B Mains were taken by Borgman and Josh Borton while heats were won by Ries, Baker, Jesse Playter, and Ryan VanderVeen.
In the AllStar Performance IMCA Modifieds, Chad Wernette out dueled Myron DeYoung for the win in an overall field of 35 cars. John DeYoung Jr. wasn't far back in third, followed by Brody Bowser, A.J. Ward, Joe Fowler, Austin Wonch, John Taylor, Brenten DeYoung, and Mitchell Hunt. John Taylor and Brenten DeYoung with heat gold falling to Dan Wiggins II, Ward, Myron DeYoung, and Wernette.
Gabe Gesselman held off Kasondra Johnson to take the Races On The Web Flinn Stock feature. Spencer Simon brought it home third, followed by Benjamin Nott, Chuck Shaw, Mercedes Kosha, Derrick Stahl, Kevin Rohn Jr., Taylor Runions, and Shellbie Shank. Heats went to Shank and Johnson.
Kevin Rohn lead the majority of the Engine Pro Pro Truck event but experienced a handling issue allowing a hard charging Andrew Fidler to pass him for the lead and the win. Curtis Rice grabbed a third place finish, followed by Tim Wood, Shane Spencer, Paul Grosnickle, Dave Peters, Jim Emmons, Laurie Mortensen, and James McKeown. Heats wins were collected by Wood and Mickey Currier.
Ron Harper won his first Street Stock feature of 2015 over a pressing field. Will Stanley made a charge at the lead but came home second, followed by James Prochazka, Ryan Alexander, Doug McKeown, Sr., Tyler Brillhart, Dennis Parker, Jr., Cody Broersma, Terry Roberts, Jr., and Austin Wiley. Prochazka and Will Stanley triumphed in the heat events.
Next week at Crystal Motor is a night of all six divisions. Pit gates open at 4:30 and the main grandstand gates open at 5PM. Racing begins at 7:30. Adults are $12 and kids 5-11 are $5. Pit passes are $25. More information can be obtained by calling the track office at 989.235.5200 or visiting the website at crystalmotorspeedway.com
Late Models:
1. 11C – Carl Ries
2. 44 – Rob Taylor
3. 87K – Joshua Knoll
4. 9 – Dean Huizenga
5. 50 – Scott Phillips
6. 73L – Logan Love
7. 117 – Kevin Reeve
8. 13 – Scott Baker
9. 72 – Kyle Borgman
10. 55W – Amanda Wing
11. 66 – Curt Mesman
12. 4P – Jason Playter, Jr.
13. 41 – Jesse Playter
14. 111 – Josh Borton
15. 6B – Doug Baird
16. 23V – Ryan Vanderveen
17. 26 – Scot Church
18. 11S – Tim Stott
IMCA Modifieds:
1. 615 – Chad Wernette
2. 7D – Myron Deyoung
3. 70 – John Deyoung, Jr.
4. 78 – Brody Bowser
5. 20W – A.j. Ward
6. 19F – Joe Fowler
7. 98 – Austin Wonch
8. 1T – John Taylor
9. 71 – Brenten Deyoung
10. 38 – Mitchell Hunt
11. B6 – Montana Bupp
12. 5R – Brian Roark
13. 5 – Anthony Fellows
14. 776K – Ken Zeigler
15. 776 – Rusty Zeigler
16. 74 – Kenny Playter
17. 77 – Jimmy Hale, Jr.
18. 78W – Drew Wilkerson
19. 11W – Dan Wiggins Ii
20. 99 – Chance Hoppes
Pro Stocks:
1. 77B – Rob Brillhart
2. 14 – Nate Jones
3. 25 – Jake Headley
4. 44H – Blake Hollenbeck
5. 17D – Derek Schestag
6. 11 – Josh Loomis
7. 94 – Chad Raby
8. 80 – Jeramie Raby
9. 1* – Gary Buskirk
10. 74 – Nick Rohloff
11. 7 – Jaycee Baker
12. 9T – Ryan Teeter
13. 26 – Mike Vandermark, Jr.
14. 97 – Nick Stormzand
15. 65 – Don Rohn
16. 8 – Mark Davis
17. 09C – Derek Crandall
Pro Trucks:
1. 51 – Andrew Fidler
2. 63 – Kevin Rohn
3. 92 – Curtis Rice
4. 40 – Tim Wood
5. 99 – Shane Spencer
6. 28 – Paul Grosnickle
7. 55 – Dave Peters
8. 88 – Jim Emmons
9. 17 – Laurie Mortensen
10. 57 – James Mckeown
11. 6 – Ryan Paradise
12. 7D – Blake Doolittle
13. 1 – Mickey Currier
14. 10 – Bree Brasington
Street Stocks:
1. 68 – Ron Harper
2. 2 – Will Stanley
3. 6 – James Prochazka
4. 1 – Ryan Alexander
5. 33 – Doug Mckeown, Sr.
6. 80 – Tyler Brillhart
7. 94P – Dennis Parker, Jr.
8. 44 – Cody Broersma
9. 23 – Terry Roberts, Jr.
10. 73 – Austin Wiley
11. 3 – Jeramy Craigmyle
12. 32T – Tony Vinton
13. F5 – Joel Field
14. 84 – Eric Watz
15. 16 – Christina Haney
16. 1C – Travis Carman
17. 25X – Bobby Reed
18. 81 – Jeff Dygert
19. 64 – David Pellerito
Flinn Stocks:
1. 29LE – Gabe Gesselman
2. 71 – Kasondra Johnson
3. 99 – Spencer Simon
4. 11N – Benjamin Nott
5. 169S – Chuck Shaw
6. 27K – Mercedes Kosha
7. X – Derrick Stahl
8. 72 – Kevin Rohn, Jr.
9. 67R – Taylor Runions
10. 42 – Shellbie Shank
11. 69L – Brent Leadford
12. 18R – Allen Roszell
13. 522 – Matt Stadt
14. 7J – Justin Stahl