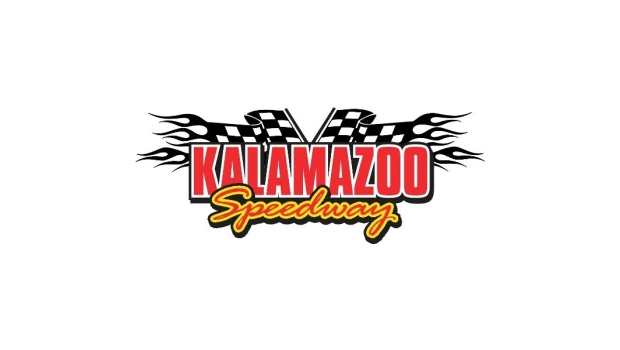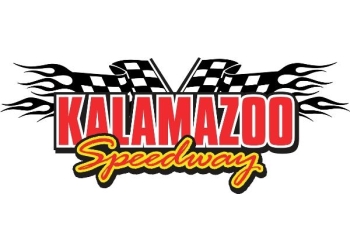 From Shawn McLaughlin
Kalamazoo, MI — (May 2, 2015) — Brian Bergakker held off a late charge from former champion Phil Bozell to win the Intimidator 100 Presented by Allstar Performance & Ingersoll Rand Saturday night at Kalamazoo Speedway. Bozell held on to finish second ahead of AJ Foote, Billy Shannon and Todd Currier. Randy Day led the second half of the top ten over Jeff Bozell, Dave Lober, 12-time champion Andy Bozell and Rob Hardy. Defending champion Mike "Bubba" Brooks set quick time of the 26 cars on the property but was involved in a lap 27 incident and finished a disappointing 18th. Scott Rugg won the last chance race.
The Super Stock feature saw Brandon Lyons start the season off on the right foot with a victory over fast qualifier Buddy Head. Chris Shannon finished a solid third ahead of Rodney Smith and Eric McGlothlen. Jim Leonard finished sixth beating out Tom Wright, former champion Kenny Head, Jon Beach and Austin Maynard.
Defending champion John Foote Jr. won a thrilling thirty lap Pro Stock feature. Veteran driver Brent Hook finished second ahead of Greg Brown, Matt Corliss and Keith Wilfong. The second half of the top ten was led by Robbie Ferrier who beat out Zach Westdorp, Barry Jenkins, Will Raber and Brian Bradshaw. Greg Haynes was the fastest of 21 qualifiers with a lap of 14.470 seconds.
Logan Knight put on a driving clinic while picking up the victory in the twenty five lap Mini Stock feature. Knight held off Brian Echtinaw, who also drove a very impressive race and finished second. Chuck Greer finished third ahead of Donnie Brest and former champion Frank Stager. Defending champion Jerime Damron started his season off with a sixth place finish beating out Steve Potter, Curtis Towne, Todd Metz Jr. and Ryan Stutz. Knight also set quick time.
The Outlaw Cyber Stock division saw young Keegan Dykstra set fast time, start dead last and drive all the way to the victory in the twenty lap feature. Nick Layman made his return to the speedway with a second place finish ahead of Bob Miller, Brian Gregerson and Larry Richardson. DJ Oxford led the second half of the top ten over Doug Nelson, Jeremy Young, Josh Roberts and Alyssa James.
The much anticipated debut of the Flip Flop Cyber Stocks saw a very good race with Brad Hall, who had set quick time earlier in the day, starting dead last and driving through the entire field to pick up the victory. Enduro veteran Brock Sweeter finished second ahead of Lynne Zachary, Jeremiah Judd and Terry Kizer. Jonathon Schuyler finished a solid sixth beating out Keith Ribble, John Kennedy, Tony Hyatt and Dwight Anderson.
If the fans liked what they saw last Saturday they should expect more of the same this weekend as another full 6 in 1 show will be run this Saturday, May 9. The NASCAR Whelen All-American Series Outlaw Super Late Models will be back in action, with the running of the "Shifters 40". AJ Foote, Billy Shannon and Todd Currier will be among the drivers looking to continue their solid starts to the season while two-time defending champion Mike "Bubba" Brooks will be looking to bounce back from his opening night crash. The Super Stocks will also return to action with Brandon Lyons trying to go back-to-back while Buddy Head, Chris Shannon, Rodney Smith and the others will be looking to pick up their first victories of the season. The Pro Stocks will run their rescheduled "Pro Stock Spring Fling Presented by Orrin B. Hayes", which will pay $600 to the winner. Mini Stocks and Outlaw Cyber Stocks will be in action as will the Flip Flop Cyber Stocks, who will be running the "Flip Flop Cyber Stock Nationals Presented by NAPA", which will see the winner take home $150. In addition to all of the racing action it will be Autograph Night, which will see every car and driver on the track before the races to sign autographs for the fans! Racing will start at 6:30.
Outlaw Super Late Models – Intimidator 100
1. 12 – Brian Bergakker
2. 83 – Phil Bozell
3. 88 – AJ Foote
4. 21 – Billy Shannon
5. 1 – Todd Currier
6. 11 – Randy Day
7. 11 – Jeff Bozell
8. 57 – Dave Lober
9. 8 – Andy Bozell
10. 33 – Rob Hardy
11. 18 – Jeff Ganus
12. 14 – Mark Shook
13. 15 – Jerry Pierman
14. 97 – Matt Frazier
15. 16 – Brandon Zachary
16. 57 – Rick Senneker
17. 3 – Matt Corliss
18. 84 – Mike Brooks
19. 80 – Brent Hook
20. 3 – Ben Raber
21. 47 – Tom Rutherford
Pro Stocks:
1. 11 – John Foote Jr.
2. 17 – Brent Hook
3. 7 – Greg Brown
4. 3 – Matt Corliss
5. 75 – Keith Wilfong
6. 34 – Robbie Ferrier
7. 16 – Zach Westdorp
8. 44 – Barry Jenkins
9. 15 – Wil Raber
10. 87 – Brian Bradshaw
11. 4 – Dan Dykstra
12. 51 – Jerry Zachary
13. 81 – Greg Haynes
14. 29 – Duane Proctor
15. 17 – Chaz Hook
16. 3 – Jim McGinnis
17. 17 – Dave Hopwood
18. 51 – Josh Highbaugh
19. 9 – Bruce wiard
20. 58 – Danny Oxford
21. 21 – Jamie Miller
Super Stocks:
1. 59 – Brandon Lyons
2. 46 – Buddy Head
3. 32 – Chris Shannon
4. 30 – Rodney Smith
5. 68 – Eric McGlothlen
6. 28 – Jim Leonard
7. 6 – Tom Wright
8. 26 – Kenny Head
9. 1 – Jon Beach
10. 29 – Austin Maynard
11. 78 – Tony Staffen
12. 45 – Robby Henderson
13. 1 – Jack Cook
14. 71 – Jake Hopwood
15. 4 – Mike Williams
16. 61 – Gary Denzel
17. 74 – Jordan Hunderman
Outlaw Cyber Stocks:
1. 4 – Keegan Dykstra
2. 5 – Nick Layman
3. 34 – Bob Miller
4. 11 – Brian Gregerson
5. 45 – Larry Richardson
6. 22 – DJ Oxford
7. 51 – Doug Nelson
8. 24 – Jeremy Young
9. 14 – Josh Roberts
10. 15 – Alyssa James
Mini-Stocks:
1. 1 – Logan Knight
2. 123 – Brian Echtinaw
3. 2 – Chuck Greer
4. 33 – Donnie Brest
5. 4 – Frank Stager
6. 83 – Jerime Damron
7. 57 – Steve Potter
8. 66 – Curtis Towne
9. 79 – Todd Metz Jr.
10. 35 – Ryan Stutz
11. 62 – Todd Metz Sr.
12. 21 – Kyle Shannon
13. 8 – Andrew Brest
Flip Flop Cyber Stocks:
1. 22 – Brad Hall
2. 13 – Brock Sweeter
3. 51 – Lynne Zachary
4. 20 – Jeremiah Judd
5. 31 – Terry Kizer
6. 87 – Jonathon Schuyler
7. 2 – Keith Ribble
8. 3 – John Kennedy
9. 43 – Tony Hyatt
10. 1 – Dwight Anderson
11. 45 – Joey Failing
12. 31 – Tiffany McConnaughey
13. 11 – Calvin Foote