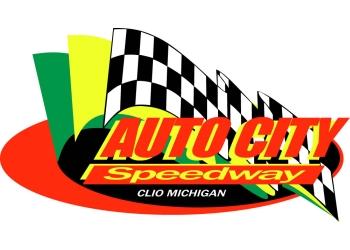 From Auto City Speedway
Clio, MI — (May 2, 2015) — After opening night delayed a week due to inclement weather Auto City Speedway kicked off the 2015 season with Outlaw Super Late Models and more on Saturday May 2nd and the fans enjoyed some awesome racing.
Scott Pemberton set the first fast time his career for the Supers on the half mile with a 14.96. The 100-lap "Rebel Rouser" feature started with Tim Ryan taking the early lead. He held the top spot until lap 17 when Johnny Belott took the lead. Belott checked out and looked like he had won the race until lap 61 when he blew a right front tire in turn two. Belott made it back on the track but gave up the lead to Dakota Carlson. One lap later Mike Root took over the lead and stayed ahead until lap 72. Then Belott made it through the field and took over the lead and held on for win. Pemberton finished second followed by Root, Carlson and Ryan.
The Pure Stocks were also in action as Randy Clayton Jr. had fast time with a 16.30. Heat race winners were Jeff West and Tony Williams. In the 25- lap feature Scott Platz jumped ahead and lead the first 3 laps. J.D. Clayton took over the lead until lap 6. Andrew Burton pulled ahead until the caution came out on 18. Then Burton and Randy Clayton ran side by side until the final lap Clayton nosed out Burton for his first ever feature win. Rounding out the top five were Williams, Josh Delong and Chad Lamson.
Due to a limited car count The Pure Stocks were allowed to run the 20-lap Street Outlaw feature. Randy Clayton Jr. took the early lead and held it until lap 10. Andrew Burton took over the top spot until Robbie Johnston lapped field and took the lead with just three laps to go. Johnston took the victory followed by Burton, Clayton, Tim Lahar and Tony Williams.
In the 15- lap Figure-8 feature defending track champ Chad Lamson took the lead on the first lap never looked to take the win. Andrew Burton was second followed by Josh Delong, Scott Platz and Jeff West.
Its Pink Night this Saturday and Autograph Night with five Division's in action. For more call 810-686-9500 or go to autocityspeedway.com.