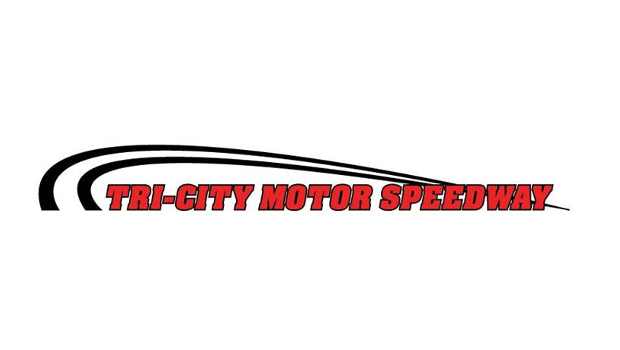 From Tri-City Motor Speedway
Auburn, MI — (May 1, 2015) — After Opening night's frosty weather, more seasonable temperatures greeted fans and racers this past Friday Night at Tri-City Motor Speedway. 83 Cars and stars towed to Auburn to try their hand on the challenging 3/8ths mile clay oval.
The Auburn Hotel Street Stocks provided some exciting 4 and 5-wide racing action in their 20-lap feature event. Former champion #7r David Newcomb moved from his fifth place starting spot to inherit the lead by the midway point of the feature. 2013 Champion #75 Toby Strong used everything he could to try to pass Newcomb but fell just short of the victory. #96 Shane Wright, #28 Jared Rizer, and #8 Aaron Spearling completed the top five. #A71 Anthony Jurek won the B-main. Heats were won by Rizer, Strong, and #x5 Eric Lake.
Hastings Racing Rings has joined TCMS as a sponsor of the Late Model Division for 2015. Fans were not disappointed by the action on the speedway as #24 Joe Pomeroy and #4t Andrew Terrill led the field of twenty to the green flag. Pomeroy would lead a large portion of the first half of the 25-lap main event. However, #6m of Dona Marcoullier would eventually track Pomeroy down and take a lead that he would not relinquish. Defending Track Champion #0x Zack Olger almost caught Marcoullier in lapped traffic, but had to settle for the runner-up spot. Pomeroy, #21 David Hilliker, and #117 Kevin Reeve completed the top five finishers. #87 Josh Knoll won the B-Main. Terrill, Pomeroy, and #50 Scott Phillips captured wins in their qualifying heat races.
There were no surprises in the Main Street Seed and Supply IMCA Modified division as #20 AJ Ward picked up his second consecutive feature of the season. He was able to chase down and pass #19 Joe Fowler, #7d Myron DeYoung, #4 Matt Szeccsodi, #4s Toby Steele, who all finished in the top five. #71 Brenten DeYoung, M. DeYoung, and Fowler won heat races.
The Steven's Cycle Sales and Service V6 Stock Bomber division was a grudge match between last week's feature winner #77 Stacy Stazsak and #09 Jack Freese. Stazsak would win the heat while Freese would win the feature.
The Elgin Pro Stock is looking similar to 2014. #71 Timmy Near took early control of the feature event before champion #21 Steven Hilliker made the final pass with five laps remaining. He would hold on for his second consecutive feature of the young season. Near would finish second followed by #93 John Robbins, #10 Brent Reil, #01 Ryan Radabaugh completing the top five. Near and #M65 Rick Spencer.
Next week at Tri-City Motor Speedway is Fan Appreciation Night. We will have a four-wide solute to our Firefighters, First Responders, Military, and Police. Bring your ID for free admission. $.50 Hot dogs for everyone until 8:30pm. Plus, there will a driver meet and greet in the grandstands before the races. General Admission for Adults $10, 7-17 yrs old $5.00, and 6 and under free. Late Models, IMCA Modified, Pro Stocks, Street Stocks, and Bomber Stocks will all be in action. For more information and instantaneous race results visit www.tricityracetrack.com.
5/1/2015 at Tri-City Motor Speedway
Dirt Late Models
A Feature (25 Laps): 1. 6M-Dona Marcoullier[4]; 2. 0X-Zack Olger[5]; 3. 24P-Joe Pomeroy[2]; 4. 21H-David Hilliker[13]; 5. 117-Kevin Reeve[9]; 6. 0P-Kris Patterson Jr[6]; 7. 24-Alex Hupert[7]; 8. 34-Herb Reich[14]; 9. 4T-Andrew Terrill[1]; 10. 50-Scott Phillips[3]; 11. 11CR-Carl Ries[8]; 12. 23V-Ryan Vanderveen[15]; 13. 19-Derrick Hilliker[10]; 14. 4-Chad Anklam[11]; 15. 9W-Isaac Wolfgang[12]; 16. 11-Ryan Lanphierd[17]; 17. 86-Scott Clifford[19]; 18. 11C-Rachel Carpenter[18]; 19. (DNF) 87K-Josh Knoll[16]; 20. (DNF) 7F-Brad Finkbeiner[20]
B Feature (15 Laps): 1. 87K-Josh Knoll[1]; 2. 11-Ryan Lanphierd[6]; 3. 11C-Rachel Carpenter[5]; 4. 86-Scott Clifford[2]; 5. 7F-Brad Finkbeiner[9]; 6. 03-JC witherspoon[3]; 7. 16-Mike Staszak[11]; 8. 9*-Liz Patterson[10]; 9. (DNF) 45B-Brad Buskirk[13]; 10. (DNF) 8C-James Williams[8]; 11. (DNF) 41X-Jesse Playter[4]; DNS 2-James Waldfogel; DNS 75-Rod Laney
Heat 1 (10 Laps): 1. 4T-Andrew Terrill[2]; 2. 6M-Dona Marcoullier[8]; 3. 24-Alex Hupert[1]; 4. 19-Derrick Hilliker[4]; 5. 21H-David Hilliker[6]; 6. 87K-Josh Knoll[5]; 7. 41X-Jesse Playter[3]; 8. 2-James Waldfogel[9]; 9. 9*-Liz Patterson[10]; 10. 45B-Brad Buskirk[7]
Heat 2 (10 Laps): 1. 24P-Joe Pomeroy[2]; 2. 0X-Zack Olger[6]; 3. 11CR-Carl Ries[4]; 4. 4-Chad Anklam[5]; 5. 34-Herb Reich[8]; 6. 86-Scott Clifford[1]; 7. 11C-Rachel Carpenter[7]; 8. 8C-James Williams[9]; 9. 16-Mike Staszak[3]
Heat 3 (10 Laps): 1. 50-Scott Phillips[1]; 2. 0P-Kris Patterson Jr[6]; 3. 117-Kevin Reeve[5]; 4. 9W-Isaac Wolfgang[4]; 5. 23V-Ryan Vanderveen[7]; 6. 03-JC witherspoon[2]; 7. 11-Ryan Lanphierd[3]; 8. 7F-Brad Finkbeiner[8]; 9. 75-Rod Laney[9]
IMCA Modifieds
A Feature (20 Laps): 1. 20W-A.J. Ward[15]; 2. 19F-Joe Fowler[3]; 3. 7D-Myron DeYoung[12]; 4. 27-Matt Szecsodi[4]; 5. 4S-Toby Steele[9]; 6. 5-Tanner Pray[1]; 7. 33-Todd Matheson[10]; 8. 511-Chaz Pray[5]; 9. D42-Don Sautter[8]; 10. 776R-Rusty Zeigler[7]; 11. 70-Scott Dann[18]; 12. 03-Chris Cohoon[11]; 13. 71-Brenten DeYoung[2]; 14. 187-Gavin Hunyady[17]; 15. 776K-Ken Zeigler[13]; 16. 38-mitchell hunt[6]; 17. 12-Brian Bero[19]; 18. 7S-Lucas Small[16]; 19. (DNF) 72-Terry Gittins[14]; 20. (DNF) 53-Nathan Oswald[20]
Heat 1 (10 Laps): 1. 71-Brenten DeYoung[2]; 2. D42-Don Sautter[5]; 3. 5-Tanner Pray[1]; 4. 03-Chris Cohoon[6]; 5. 776K-Ken Zeigler[4]; 6. 7S-Lucas Small[3]; 7. 12-Brian Bero[7]
Heat 2 (10 Laps): 1. 7D-Myron DeYoung[5]; 2. 776R-Rusty Zeigler[3]; 3. 27-Matt Szecsodi[2]; 4. 4S-Toby Steele[4]; 5. 72-Terry Gittins[6]; 6. 187-Gavin Hunyady[1]
Heat 3 (10 Laps): 1. 19F-Joe Fowler[2]; 2. 33-Todd Matheson[5]; 3. 511-Chaz Pray[3]; 4. 38-mitchell hunt[7]; 5. 20W-A.J. Ward[6]; 6. 70-Scott Dann[4]; 7. 53-Nathan Oswald[1]
Pro Stocks
A Feature (20 Laps): 1. 21-Steven Hilliker[9]; 2. 71-Timmy Near[1]; 3. 93-John Robbins[5]; 4. 10-Brent Reil[7]; 5. 01X-Randy Radabaugh[3]; 6. M65-Rick Spencer[8]; 7. 17-Derek Schestag[2]; 8. K11-Kendall Morrison[4]; 9. (DNF) 91-gary shank[10]; 10. (DNF) 99-Rick Beauchamp[11]; 11. (DNF) 27-Rob Westergard[12]; DNS 73-Kyle Reilly
Heat 1 (8 Laps): 1. 71-Timmy Near[1]; 2. 21-Steven Hilliker[2]; 3. 01X-Randy Radabaugh[3]; 4. 93-John Robbins[4]; 5. 10-Brent Reil[5]; 6. (DNF) 99-Rick Beauchamp[6]
Heat 2 (8 Laps): 1. M65-Rick Spencer[5]; 2. 17-Derek Schestag[1]; 3. 91-gary shank[6]; 4. 73-Kyle Reilly[4]; 5. (DNF) K11-Kendall Morrison[3]; 6. (DNF) 27-Rob Westergard[2]
Street Stocks
A Feature (20 Laps): 1. 7R-Dave Newcomb[5]; 2. 75S-Kevin Strong[9]; 3. 96-Shane Wright[10]; 4. 28-Jared Rizer[7]; 5. 8-Aaron Spearling[8]; 6. 51-Todd Winchell[2]; 7. X5-Eric Lake[6]; 8. 67-Ryan Fitzgerald[4]; 9. A71-Anthony Jurek[16]; 10. 72-Matt Erndt[14]; 11. 11B-Jeffrey Brush[1]; 12. 18D-David Lester[13]; 13. 18L-Rodney Lathram[18]; 14. 57G-Ryan Buechler[19]; 15. (DNF) 15.2-robert cunningham[17]; 16. (DNF) 88-Floyd Schalk[11]; 17. (DNF) 4S-Wayne Simmons[12]; 18. (DNF) 29-darrick george[15]; 19. (DNF) 65-Garrett Laudenslager[3]; DNS 18JR-Fred Dow Jr
B Feature (12 Laps): 1. A71-Anthony Jurek[5]; 2. 15.2-robert cunningham[3]; 3. 18L-Rodney Lathram[4]; 4. 57G-Ryan Buechler[7]; 5. 18JR-Fred Dow Jr[1]; 6. 99-Dustin Beauchamp[8]; 7. 9-Brian Schneidmiller[2]; 8. 90-Derek Pickvet[6]
Heat 1 (8 Laps): 1. 28-Jared Rizer[6]; 2. 11B-Jeffrey Brush[1]; 3. 67-Ryan Fitzgerald[5]; 4. 96-Shane Wright[8]; 5. 18D-David Lester[4]; 6. 18JR-Fred Dow Jr[3]; 7. 18L-Rodney Lathram[7]; 8. (DNF) 57G-Ryan Buechler[2]
Heat 2 (8 Laps): 1. 75S-Kevin Strong[8]; 2. 51-Todd Winchell[3]; 3. 7R-Dave Newcomb[5]; 4. 8-Aaron Spearling[6]; 5. 72-Matt Erndt[4]; 6. 9-Brian Schneidmiller[7]; 7. A71-Anthony Jurek[1]; 8. 99-Dustin Beauchamp[2]
Heat 3 (8 Laps): 1. X5-Eric Lake[5]; 2. 4S-Wayne Simmons[7]; 3. 65-Garrett Laudenslager[4]; 4. 88-Floyd Schalk[6]; 5. 29-darrick george[1]; 6. 15.2-robert cunningham[2]; 7. (DNF) 90-Derek Pickvet[3]
Bomber Stocks
A Feature (12 Laps): 1. 09-Jack Freese[1]; 2. 77-Stacie Staszak[2]
Heat 1 (6 Laps): 1. 77-Stacie Staszak[2]; 2. 09-Jack Freese[1]