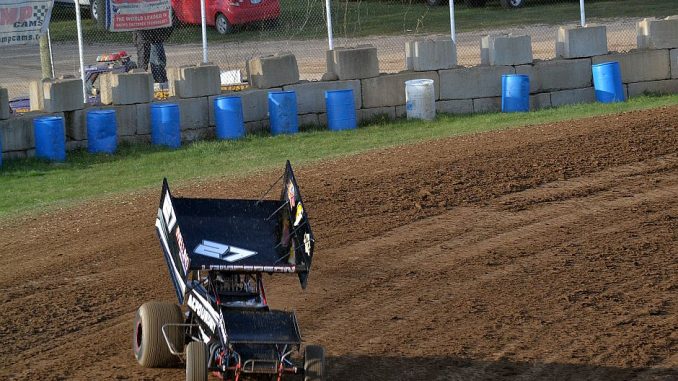 By T.J. Buffenbarger
This past weekend was my first visit to the race track in person for the 2015 season at Crystal Motor Speedway. It seems no matter how many years go by Crystal keeps chugging along with a pit area jammed full of race cars and grandstands full of race fans. Even temperatures dipping down into the mid-30's produced a healthy crowd that was much larger than I expected.
Crystal under Ron Flinn's leadership appears to be bucking the trend of shrinking car counts some of the dirt facilities have seen over the past couple of years. One difference is Crystal has stuck with their American Racer tire program and IMCA modifieds to keep their costs in check where a majority of tracks went in different directions. There are quite a few racers that appear to be Crystal a second look in both of these divisions to fulfill their desire to go racing. While some of the lower classes seem to be recovering from the economic dip the middle and upper classes at Crystal appear to be booming.
Another factor in Crystal succeeding is having a partner on Friday nights. With Tri-City Motor Speedway now largely on the same rule package as Crystal, competitors have the option of racing twice a weekend under the same rule package. Looking back in Michigan racing history Crystal has done fine without a Friday partner, but largely has had its best racing with a Friday partner. One has to wonder why other Michigan tracks do not go back to the same rule packages that every track ran in Michigan and seemed to have more people in competition.
Over the period of time Flinn has owned Crystal the program has remarkably improved. There were years I dreaded going to Crystal in fear of being at the track well past midnight and track conditions that were less than desirable. Saturday's program was the polar opposite as the track conditions were possibly the best I've seen at Crystal through the entire night, producing a tremendous sprint car feature, and the rate of efficiency Crystal runs off races for their 100+ cars in the pit area is remarkable. Announcers Roger Williams and Trevor Hollis act as the ringmasters for Flinn's three ring racing circus and have polished their skills into a highly entertaining listen.
Even with the cool temperatures Saturday might have been one of the more enjoyable nights I have ever spent at Crystal. It was fun hanging out there for the evening even if it was more suitable outside for ice fishing rather than racing.
T.J.'s notes:
While walking through the pit area we noticed Vander Veen's late model with tire covers over all four wheels. With only one spec tire as an option at Crystal we inquired to why the covers were in use? The answer was not because they were hiding any trick suspension options, it was to keep heat in the race car. Such covers were then spotted all over the pit area as teams worked to keep engines warm.
If Saturday was any sign of how competitive the Engine Pro Sprints on Dirt presented by ARP series will be in 2015 Michigan sprint car fans should be in for a treat. New faced up front included Brad Lamberson and Andy Teunessen while Ryan Ruhl continued his assent up the ladder as one of Michigan's best current sprint car drivers.
Lamberson's heartbreaking defeat due to mechanical failure was one of the most heartbreaking we have seen in recent memory. Arriving at the track after hot laps had started Lamberson posted a strong heat race run and led almost the entire feature, repeatedly holding off challenges from Shawn Dancer and Dustin Daggett. With the engine letting go on the final lap Lamberson did not cross the finish line and was scored 19th. Lamberson did not know how badly the engine was damaged, but was hoping to find out early in the week. The engine problems could put a serious hitch in Laberson's effort to win the 2015 SOD championship.
In the Crystal Late Model division Scott Baker appears to be a favorite to win his third championship at Crystal this season, but it could be more challenging this season due to the depth of the late model field. Feature winner on Saturday Zach Olger and Kevin Reeve appear poised to challenge throughout the year. There are several teams that have not called Crystal home in recent years contemplating running their the entire year due to the affordable tire rule and various changes in the Michigan racing landscape the past couple of seasons.
One might notice the lack of photos from Crystal on Saturday. This is from a failure in the SD Card I used in my camera on Saturday upon arrival at home early Sunday morning. With all of that material lost I was unable to bring to the table any images from Saturday night. Needless to say multiple brand new SD cards are loaded in my bag for this weekend's trip to I-96 Speedway and Berlin Raceway.
Crystal and Flat Rock Speedway were the only tracks in the state that raced cars on Saturday night. While some were dismayed about the early cancelations I feel if a track sticks to a pattern of how they handle inclement weather I am okay with an early cancelation. Typically a lot of the tracks that did cancel early on Saturday are places that generally do call off programs early unless it is one of their major shows of the year and was far from a surprise. Tracks like Crystal are very much in the mode of unless it's raining or snowing they are racing. Another factor being the pavement tracks typically have cars in line by morning or early afternoon with hours of practice rather than on dirt where drivers for a weekly program start arriving around 5:00 p.m. From my vantage point I had no problems with tracks calling off programs on Saturday, and give plenty of kudos for Crystal and Flat Rock for sticking it out.
Race fans will get an added bonus to the Tom Bigelow Classic on Saturday night at Berlin Raceway. Due to last week's rain out Super Late Models (aka Template/CRA type late models, not to be confused with Outlaw Super Late Models) have been added to the program. Make sure to check out the Berlin Raceway website for an updated schedule including an earlier start time than is typically an hour earlier than most tracks to begin with. Also several Cinco de Mayo specials are being offered to produce a celebratory mood on Saturday.
Michigan International Speedway through MIS Cares is offering race fans several opportunities to take laps with their street legal cars around the 2.5 mile tri-oval. Dates are Tueday June 30th, Monday July 6th, and Tuesday July 14th available for $25.00 each. Space is limited and there are restrictions. For more information visit http://www.mispeedway.com/About-MIS/Special-Events/Track-Laps.aspx
Kalamazoo Speedway is offering their fans a bonus this week by pushing back the Intimidator 100 back one week to where the track's closest fans in Alamo Township get free admission. Kalamazoo has also added a test and tune program to Wednesday April 29th.
I-96 Speedway hosts the SOD series this week and has also scheduled a test and tune program Tuesday from 4:00 PM until dusk.
I-96, Mt. Pleasant, Galesburg, and Auto City will try again to open their racing programs this weekend while M40, Butler, Jackson, Owosso, and Springport hold season opening events this week. Springport's opener is a special Sunday affair featuring the CRA Jegs Series and the Top Speed modifieds.
I want to thank everyone that has enjoyed our first steps in this endeavor. We are trying to walk before we run and make sure our results, news, and commentary programs are solid before we start adding more features. As the summer goes on we want to add some weekly features and podcasts to our program as well as long as everything else is progressing as scheduled.