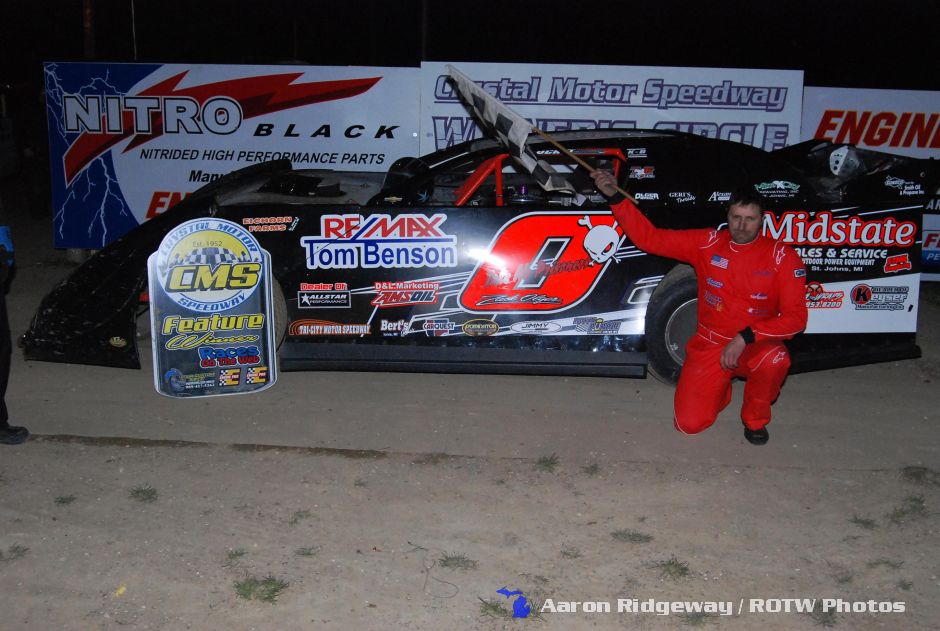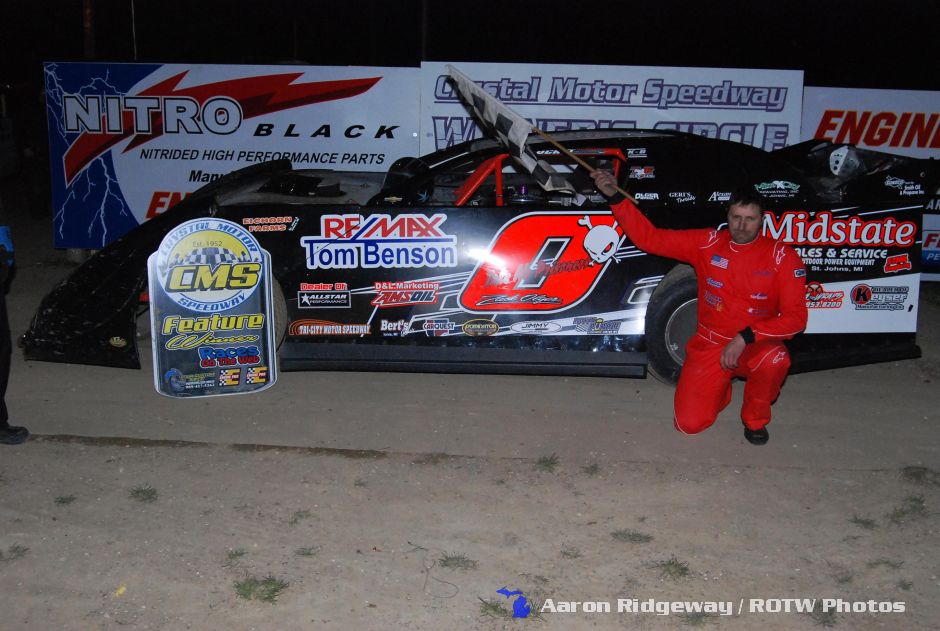 From Crystal Motor Speedway
Crystal, MI — (April 26, 2015) — Saturday night at Crystal Motor Speedway found another full grand stands and about 129 cars in the pits as the SOD Sprints made their season opener a success with 24 sprinters on hand.
The night got started with Ryan Ruhl besting the field to take the SOD Sprint season opener in the Engine Pro Sprints on Dirt presented by ARP. Brad Lamberson held a decent lead going into the final laps but pull off due to mechanical issues. Ruhl, Chase Ridenour, Dustin Daggett, and Kyle Pitts grabbed heat wins. Nic Rogers took the B Main.
Zack Olger held off a persistent Kevin Reeve to take the KFC Late Model feature. Kyle Borgman followed in third, followed by Scott Baker, Ryan VanderVeen, Rob Taylor, Scott Philips, Joshua Knoll, Josh Borton, and Dean Huizenga. B Main wins went to Knoll and Amanda Wing while heats fell to Baker, Scott Haney, and Olger.
Chad Wernette topped A.J. Ward to take the win in the All Star Performance IMCA Modified event. Myron DeYoung followed in a close third, followed by Gary VanderMark, Cory Ruesink, Brenten DeYoung, Chance Hoppes, Austin Wonch, Mitchell Hunt, and Drew Wilkerson. Jerry Hunt and Robert Putt took home B Main wins while heats were won by Wernette, Myron DeYoung, Ward, and Johnny DeYoung Jr.
Andrew Fidler and Tim Wood put on a good show early before Fidler finally pulled away to win the Engine Pro Pro Truck event. Wood bested Paul Grosnickle for second with Bree Brasington, Dave Peters, James McKeown, Curtis Rice, Mickey Currier, Brad Emelander and Blake Doolittle finishing up the top ten. Currier and Rice brought home heat gold.
It's been a few races since Will Stanley was a steady racer at Crystal's big clay track but he returned and showed the field he hadn't dropped a step as he held off all comers to win the Street Stock feature over Tyler Brillhart, James Prochazka, Doug McKeown, Sr., Joel Field, Ron Harper, Dennis Parker Jr., J.R. Schmid, Christina Haney, and Tony Vinton. Harper and Stanley posed for winner photos.
Benjamin Nott was hot in the final race of the night as he took it all in the Races On The Web Flinn Stock event. Allen Roszell finished second and took over the points lead with Derrick Stahl placing third, followed by Kevin Rohn, Jr., Spencer Simon, Taylor Runions, Gabe Gesselman, Shawn Hornus, Kasondra Johnson, and Nick Davenport. Runions and Stahl won heats.
Next week at Crystal Motor Speedway is a regular night of all six divisions, sponsored by Michigan One Community Credit Union. Pit gates open at 4:30 and the main grandstand gates open at 5PM. Racing begins at 7:30. Adults are $12 and kids 5-11 are $5. Pit passes are $25. More information can be obtained by calling the track office at 989.235.5200 or visiting crystalmotorspeedway.com
Late Models:
1. 0X – Zack Olger
2. 117 – Kevin Reeve
3. 72 – Kyle Borgman
4. 13 – Scott Baker
5. 23V – Ryan Vanderveen
6. 44 – Rob Taylor
7. 50 – Scott Philips
8. 87K – Joshua Knoll
9. 111 – Josh Borton
10. 9 – Dean Huizenga
11. 55W – Amanda Wing
12. 73L – Logan Love
13. 71 – Don Proctor, Jr.
14. 11C – Carl Ries
15. 6B – Doug Baird
16. 21H – David Hilliker
17. 4P – Jason Playter, Jr.
18. 14 – Scott Haney
IMCA Modifieds:
1. 615 – Chad Wernette
2. 20W – A.j. Ward
3. 7D – Myron Deyoung
4. 10 – Gary Vandermark
5. 48 – Cory Ruesink
6. 71 – Brenten Deyoung
7. 99 – Chance Hoppes
8. 98 – Austin Wonch
9. 18 – Jerry Hunt
10. 38 – Mitchell Hunt
11. 78W – Drew Wilkerson
12. 78 – Brody Bowser
13. 70 – John Deyoung, Jr.
14. 42P – Kenny Playter
15. 77 – Jimmy Hale, Jr.
16. 87 – Robert Putt
17. 4S – Toby Steele, Sr.
18. 19JR – Kody Johnson
19. 0M – Milt Montgomery
20. 62 – John Row
Pro Trucks:
1. 51 – Andrew Fidler
2. 40 – Tim Wood
3. 28 – Paul Grosnickle
4. 10 – Bree Brasington
5. 55 – Dave Peters
6. 57 – James Mckeown
7. 92 – Curtis Rice
8. 1 – Mickey Currier
9. 84 – Brad Emelander
10. 7D – Blake Doolittle
11. 88 – Jim Emmons
12. 6 – Ryan Paradise
Street Stocks:
1. 2 – Will Stanley
2. 80 – Tyler Brillhart
3. 6 – James Prochazka
4. 33 – Doug Mckeown, Sr.
5. F5 – Joel Field
6. 68 – Ron Harper
7. 94P – Dennis Parker, Jr.
8. 314 – J.r. Schmid
9. 16 – Christina Haney
10. 32T – Tony Vinton
11. 3 – Jeramy Craigmyle
12. 73 – Austin Wiley
13. 64H – Don Hopkins
14. 64 – David Pellerito
15. 44 – Cody Broersma
16. 14X – Mike Vandermark, Jr.
17. 32 – Paul Denny
18. 23 – Terry Roberts, Jr.
19. 1C – Travis Carman
Flinn Stocks:
1. 11N – Benjamin Nott
2. 18R – Allen Roszell
3. X – Derrick Stahl
4. 72 – Kevin Rohn, Jr.
5. 99 – Spencer Simon
6. 67R – Taylor Runions
7. 29LE – Gabe Gesselman
8. 7H – Shawn Hornus
9. 71 – Kasondra Johnson
10. 522 – Nick Davenport
11. 69L – Brent Leadford
12. 17 – Josh Pulsipher
13. 7J – Justin Stahl