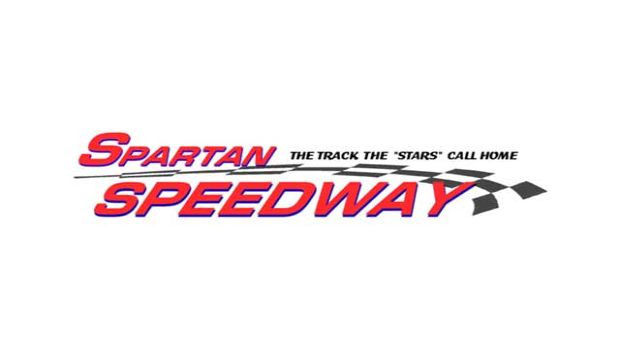 From Duane Turner
Mason, MI — (April 21, 2015) — With the Winter weather behind us, Spartan Speedway in Mason, MI is ready for the 2015 racing season. This Friday evening, April 24 the track will kick off the season with the Performance Automotive Northwest Modifieds, Lipari Foods Spartan Stocks, and the Boss Snow Equipment Pony Stocks. Pit gates will open at 3:00, grandstands open at 5:00, and racing will start at 7:30.
For the 2015 season, the Performance Automotive Northwest Modifieds will the co-headline division along with the Sawyers Chevrolet Spartan Sprints. Also in regular rotation at the speedway will be the Lipari Foods Spartan Stocks, Boss Snow Equipment Pony Stocks, Sawyers Chevy Superstore Michigan Legends, and the The Parts Place Napa Bandoleros.
Special events for the 2015 racing season will include Slugfest #1 on Sunday, May 24th with the Enduro Figure 8 races. Slugfest #2 will be Sunday, June 28th. A special Slugfest #3 on Sunday, July 26th, will feature the 100 lap Brian Heeney "Wild Child 100" modified feature. The Slugfest #4 will be Sunday, August 9th. Slugfest Championship night will be Friday September 6th, the "Harvest Plus" event will feature the enduro figure 8's, modifieds, spartan stocks, and pony stocks. The always popular school bus figure 8, trailer figure 8, and flagpole races will be held on Friday, July 10, and Friday, September 11th.
Old timers night will return on Friday, July 24. this evening will feature vintage American race cars, road rage races, and the old "hare and the hound" races. The fastest short track cars in the world, the Auto Value/ Bumper to Bumper Super Sprints will return to Spartan Speedway on Friday, August 14th. These winged sprint cars will be the fastest race cars to turn laps at Spartan Speedway in 2015.
Finally, the modified championship night will take place on Friday, August 21, with Spartan Sprints championship night a week later on August 28. A special Friday, September 4th will feature championship night for the Michigan legends, and bandoleros. Also on the card will be dwarf cars, Mini cups, and VORES compact touring series. For more information about Spartan Speedway, log on to the official website at www.spartanspeedway.com, or their facebook page at www.facebook.com/spartan.speedway and click "like" today!