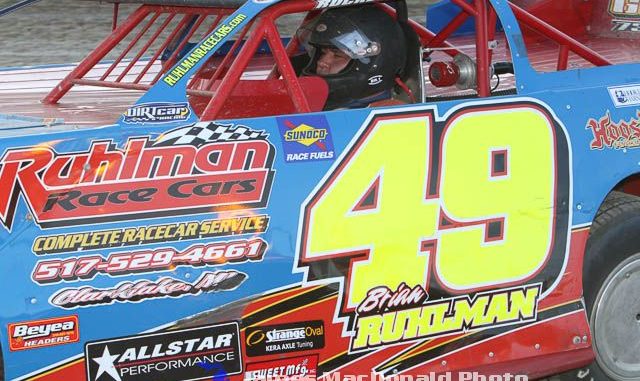 By T.J. Buffenbarger
Wyoming, MI — (April 22, 2015) — Michigan race fans are treated to another big weekend during the early part of the season. While the weather will not be as hospitable as last weekend, those who dress in layers should be rewarded by seeing some awesome racing all throughout the state.
The headliner on Friday night is Winston Speedway hosting the first appearance of the Sunoco American Late Model Series in the 9th annual Allstar Performance 50. This annual event at Winston always draws one of the more impressive regional late model fields in the area during the season. I-96, Tri-City, and Spartan also host opening night affairs for their weekly classes.
Saturday night features big shows on the dirt and asphalt. Crystal Motor Speedway has their only Engine Pro Sprints on Dirt presented by ARP / Late Model double header of the season. Last week Crystal has enough Late Model to warrant two B-Mains, while Crystal always proves to be one of the most popular stops for the SOD fans and teams. Crystal is the only track to host a SOD event every year of the series existence. Defending SOD champion Dustin Daggett and Ryan Ruhl will renew their rivalry on Saturday. Ruhl got the upper hand during SOD's third visit to Crystal in 2014, but Daggett went on to win the championship. With Ruhl racing a mixed schedule of 410 and 360 programs this program at Crystal will be one of the few opportunities to see both of these talented Michigan racers go head to head at a SOD event.
On the pavement Kalamazoo Speedway opens their 2015 campaign with the Intimidator 100 featuring the Outlaw Super Late Models. Last year Bubba Brooks stopped Steve Needles from obtaining a hat trick of victories in the event. Four out of the last seven years the winner of the Intimidator 100 has gone on to win the Kalamazoo Speedway track championship. With Berlin Raceway giving their super late models the night off all of the hot shoes on the west side of the state should be in attendance.
Flat Rock, Galesburg, and Auto City all open their 2015 seasons on Saturday while Berlin Raceway features their second week of racing with Super Late Models as the headliner.